The devs of Warframe held their 90th livestream yesterday, and during that stream, they unveiled a quick peek at their upcoming new Warframe character. The 33rd addition to the game's playable roster was one of several other reveals due to arrive in the action MMO.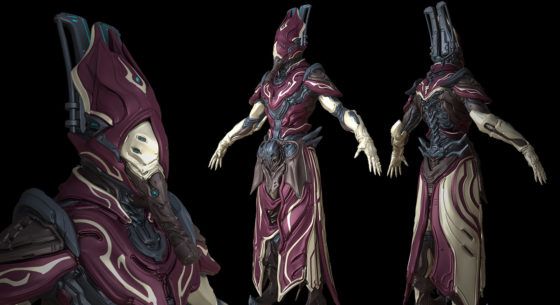 While the latest Warframe doesn't exactly have a name yet, he's being affectionately named "Bobo". Whatever his name actually ends up being, his role has been confirmed; he will be a Support Warframe that relies on precise aim. "He is always ready to protect his squad, and sacrifice for them if necessary," reads the post. Much like recently-added Warframes like Octavia and Nidus, the 33rd Warframe will arrive with a Syndicate-linked quest.
Other reveals made during the livestream include new details about the Ambulas rework, adjustments to several Warframes, and the ability to hold a secondary weapon in one hand and a blade or glaive in the other.
There's a lot more to take in, so you can check out the full synopsis on the game's official forums as well as take a peek at the upcoming Warframe in the reveal snippet below.
Our Thoughts
This kind of reminds us that there really aren't a lot of flails or whips in many MMOs. Sort of an underloved and awesome weapon type. On point, the new Warframe definitely looks impressive as always. We're eager to find out more about this new addition as well as what else is coming to Warframe soon!
Source: official forums
Articles Related to Warframe
Warframe Unveils Octavia's Anthem and Fourth Anniversary
F2P Kingdom: Warframe Free to Play is a Real Bang for the Buck
Warframe Glast Gambit Update Infects Consoles
Related:
Livestream
,
MMO
,
News
,
Warframe