With the Nintendo Switch offered to players in London this past weekend, gameplay footage of a variety of titles is making its way to the internet. One such example is a video of Splatoon 2 gameplay footage, which provides fans of the online multiplayer shooter a look at some of the new weapons arriving to the game.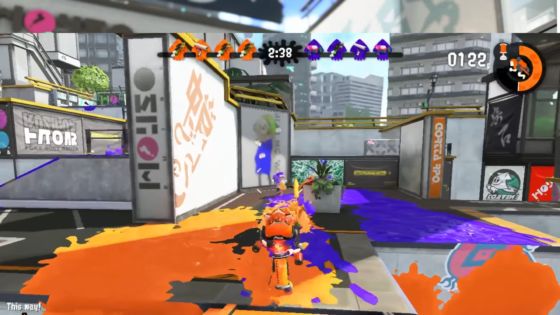 YouTuber Arekkz was lucky enough to get some hands-on time with Splatoon 2 and shared some footage of his two matches, each one offering a look at two different loadouts.
One involved the new Splat Dualies, a pair of dual-wielded SMG-style weapons that grant the user the ability to swiftly roll to one side and unload a concentrated stream of ink at a target. There was also demonstration of a new Ink Jetpack superweapon which launches the player in to the air to rain ink from above.
The second loadout involved the use of a mortar launcher superweapon, which parks the player in position to paint enemies with targets and then fire ink mortars at them.
Splatoon 2 is due to release in Summer of 2017. You can take a look at Arekkz's video below.
Our Thoughts
The new superweapons look like fun, and the Splat Dualies look like they'll be one of the more popular weapons on the battlefield of Splatoon 2. We are fans of this colorful and fun online shooter, and we can't wait for our squid kids to return to action!
Your Thoughts
Are you excited for Splatoon 2? What did you think of the new weapons demonstrated? Give us your thoughts in the comments below.
Source: VG247
Articles Related to Splatoon 2
Nintendo Switch Online Functions Briefly Detailed in Interview
Splatoon's Final Splatfest Results are In
Will the Nintendo Switch Resurrect Local Multiplayer?
Related:
News
,
Online Shooter
,
Splatoon 2
,
Video