The latest Newzoo analytics have been released. Though RPGs appear to be gaining popularity, eSports titans like League of Legends, Counter-Strike: Global Offensive, World of Tanks, and DotA 2 continue to top the charts.
The Data: DotA 2 on the Rise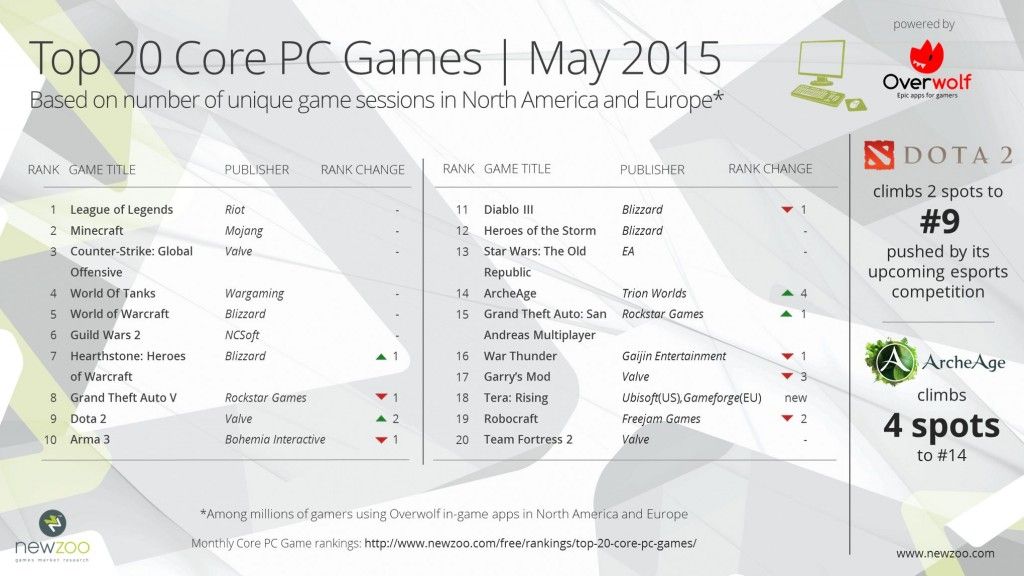 Though it isn't surprising League of Legends continues to dominate the #1 PC gaming spot, DotA 2 has made a sizable player jump. The upcoming International 2015 has brought a new wave of players to Valve's blockbuster old-school MOBA. The game rose two spots this month, taking the #9 spot in the Top Core PC Games chart.
The DotA 2 International will be the biggest tournament in eSports history, boasting a prize pool of over $13 million USD (over $1.5 million more than MMOGames' post last week). The tournament will run from August 3-8 and will feature top tier pro teams like Natus Vincere, Cloud 9, Newbee, Fnatic, and (Red Bull Battle Grounds winner) Team Secret. For more information, see the official International Site here. Buy a Compendium here.
Other Data
Blizzard continues to dominate the numbers game, with 4 titles in the top 15 PC games; Valve follows closely behind with 4 in the top 20. Mojang's Minecraft continues to hold the #2 slot, while Counter-Strike: Global Offensive stands first at #3. Grand Theft Auto remains the most popular (predominately) single-player game in the world, holding the #8 spot.
Source: Newzoo Market Research
Related:
Dota 2
,
League of Legends
,
MMO
,
MMORPG
,
MOBA
,
News
,
Newzoo