There's a lot of sandbox MMOs in development or already out in the wild, but now we're getting a mobile one. Nexon has officially confirmed the launch of mobile sandbox MMO Durango, a game where players must survive in a world of modern tech and ancient dinosaurs.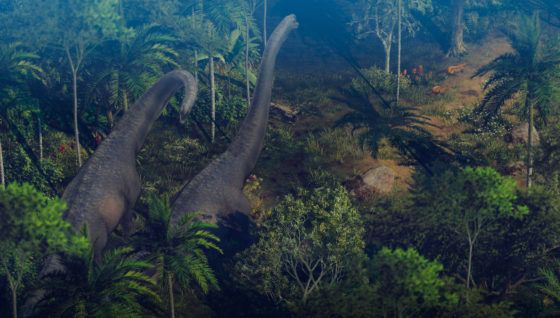 Durango is an open-world MMO set in a land where players have been ripped from their modern world to an alternate one full of dinosaurs. Players can make use of modern materials and tech in order to colonize and survive the harsh new ecosystem. Players can form clans, build villages, tame dinos, and band together to survive hostile creature and player attacks, which will play out in real time.
The new mobile title takes advantage of procedural generation to build the game's world, which will include either persistent "stable continents" or "unstable islands" that will continually appear and disappear into the sea at random. Players can use gathered resources to build tools, weapons, and villages that can grow from a bundle of basic huts to a full-blown fortress.
"Durango raises the bar for persistent and massive open-world games on mobile devices," said Lawrence Koh, General Manager of Nexon M. "What! Studio has created a rich and dynamic experience for players to truly become pioneers amongst dinosaurs, allowing them to shape the world, events and story through social gameplay and cooperative and competitive in-game events."
Durango will be playable at this year's E3 and is eyeing a global Fall 2017 release. More information can be seen at the game's official site, and a cinematic teaser trailer showcasing some gameplay is available below.
Our Thoughts
One of our first thoughts when we think of a mobile sandbox MMO is "How does that kind of game control on a mobile device?". We're certainly very curious to know if a lofty game like Durango is easy to control, but then again, game devs have managed to pull a run-and-gun MMOFPS out of the platform.
Source: press release
Articles Related to Durango
First Look at Shadowgun Legends at Gamescom 2016
NetEase Reveals New Mobile MMORPG Crusaders of Light
Square Enix Partners with Mobile Strike Dev for Final Fantasy XV Mobile MMO
Related:
Durango
,
mobile gaming
,
News
,
Sandbox MMO