That headline is correct; if you're not careful in the upcoming ARK PC update (and eventually in the next console update) you and your stuff will meet a very hot and molten end. The upcoming version update for the survival MMO is making a volcano very active.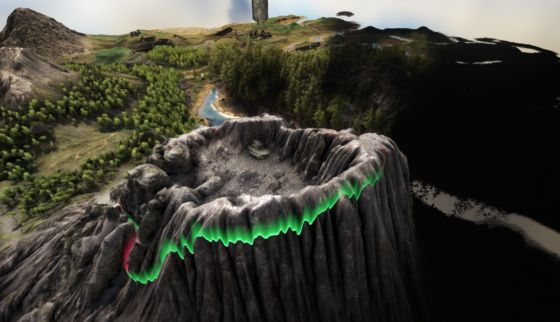 In a forum post announcing a delay in v257 for the PC, a warning was also offered to players that the volcano in the game's map will begin to spew lava. A client-side patch came out today highlighting the area the volcano will affect, so if you've got stuff nearby you might want to consider relocating.
Active geological formations aren't the only thing arriving in the next update, of course; the patch notes for v257 also include new Tek items and structures, new music tracks, a feature referred to as an "Ascension game progression" system, and a variety of new creatures including a giant bee. Because the prehistoric world of ARK wasn't already full of overgrown horrors.
For console players, v256 is out now, which introduces underwater base-building and other features that were previously announced. In the meantime, v257 of ARK is scheduled to arrive on Wednesday, May 3rd.
Our Thoughts
It's pretty funny how you never really consider why a volcano isn't actively…uh…active. Most of the time a feature like a volcano is mere window dressing, so we rather like the idea of making it a real threat. Of course, we're also looking forward to the other features in v257.
Sources: official forums 1, 2, press release
Articles Related to ARK: Survival Evolved
Underwater Bases and Aquatic Breeding Coming in ARK Steam Update
Top Builder Dinos for ARK Survivors
ARK Patch 255 Brings New Creatures and New TEK
Related:
ARK: Survival Evolved
,
News
,
Sandbox MMO
,
Update