The next Revelation Online content expansion is for the PvP'ers of Nuanor. First Contact will be opening up some arenas and battlegrounds to the MMO and drawing in players from different servers to fill them up with combatants, along with a new server and new auction house features.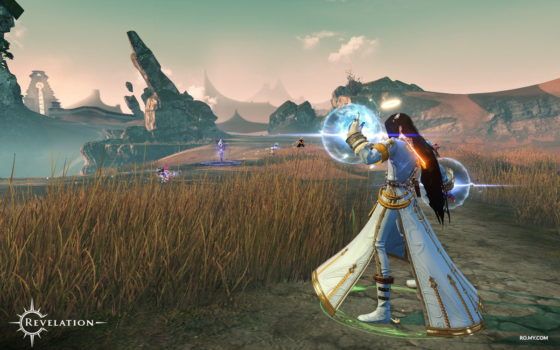 Revelation Online will open up Arenas to cross-server play in 1v1, 3v3 or 5v5 varieties as a means to earn both experience and equipment for bigger battles ahead. Those battles range in a variety of team sizes and objectives, but all offer the same cross-server functionality.
The 10v10 Darkwood Vale, where teams must complete tasks or kill monsters and bosses in their opponent's side of the field for points.
Iron Precipice Blitz is a 20v20 battle for control of five different resource points scattered across the map, with more points earned the longer points are held. First to 1,000 points wins.
The 30v30 Machinist's Gauntlet calls for an attacking team to defeat the Dragon's Orb that sits on the top of the defending team's Ancestral Dragon Spire
Finally, a guild vs. guild tournament area will be opened, which mixes both ground and aerial combat and promises tactical gameplay and requires good player management.
In addition to all of the PvP battleground content, First Contact will also bring cross-server connectivity to the game's auction house, support for French and German languages, and a new EU server for players of the region.
First Contact doesn't have a hard release date yet, but is promised to arrive this March and will, of course, be a free update. A teaser trailer for the content can be seen below.
Our Thoughts
Nothing is worse than waiting in a queue for your PvP match to start, so we're definitely glad to see that cross-server tech is being brought online for Revelation Online. It also sounds like the new arenas and battlegrounds will be a good time, too. Here's hoping the PvP'ers of the game have smooth connections and great fights.
Source: press release
Articles Related to Revelation Online
Revelation Online Review
F2P Kingdom: Is Revelation Online Free to Play Really Pay-to-Win?
Shadowblade Expansion Adds the Assassin in Revelation Online
Related:
MMO
,
News
,
Revelation Online
,
Update