The man who paid a hefty price for a working early copy of No Man's Sky has posted a comment about his videos and has vowed to stop offering spoilers.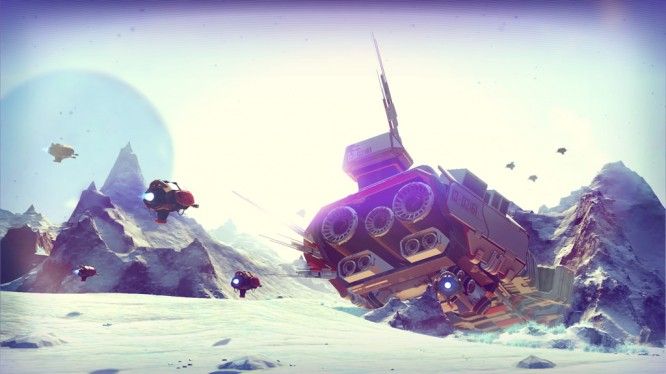 The man in question, who goes by the name of daymeeuhn, made a lengthy post about his past 24 hours with the game, his near-instant internet infamy and their effects on him as captured by the Undelete sub-reddit. "Originally, I hadn't even really planned on posting videos. There was a lot of hype for it, I caved, and I posted some," leads daymeeuhn's comment, referencing a stream he had posted of the first 20-odd minutes of gameplay which was later taken down. Daymeeuhn would then vow to offer only impressions of his experience in text form and would no longer provide screenshots and video.
"…that's it from me video-wise. HG and Sean don't like it, it's giving me a headache dealing with the fallout, I don't want to be the guy that spoiled all this cool [stuff], and I'm just leaving it at that! I hope you like those first videos! But for now, I'm going to just play the game, keep to myself and enjoy it."
The buyer would also mention that the game does indeed have some early spoilers, paraphrased to "Heck yeah!" moments. "There are more spoilers than you probably realize with this game…Sean is right… why not just wait and experience them first hand?"
Our Thoughts
We can only assume that daymeeuhn felt he was prepared for the rush of digital fame his actions would bring and has since been waylaid by the matter, causing him to retreat in to his own personal nautilus. It's a shame that many made assumptions of his character and even took things he said out of context, and we applaud his decision to hold back on showing what the game offers. That said, it's all out there now and can likely be easily found for anyone who wants to look.
Your Thoughts
Have you watched any of the videos posted by daymeeuhn? Or are you indeed trying to shield yourself from any spoilers? Tell us in the comments below.
Source: Undelete sub-reddit
Articles Related to No Man's Sky
Fully-Functional Early Copy of No Man's Sky Surfaces
No Man's Sky Soundtrack Pre-Order, Concert Tour Dates Announced
No Man's Sky Trade Gameplay Showcased in New Trailer
Related:
News
,
No Man's Sky
,
Reddit
,
Spoilers