"The foundation of things to come" has been laid. The No Man's Sky Foundation Update has gone live with new details, patch notes and a video showcasing everything offered in the game's first major content update.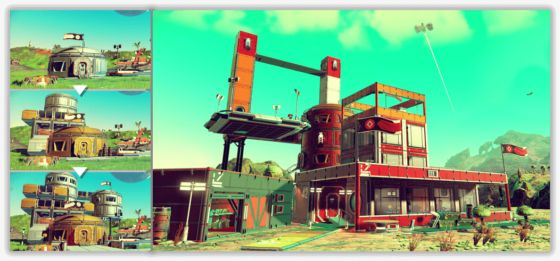 Update 1.1 will now let players start their game in one of three modes: Normal, a challenging Survival mode and a Creative mode which provides unlimited health and resources. Players will get to use new tools such as resource harvesters and save points, and can also mark locations of interest in their travels. Communication Terminals can also be left to offer messages for others to find.
One of the marquee features of Foundation is the ability to claim a home planet and build a Base. Modular structures can be created from gathered elements and placed at will at your base, and can be crewed by alien life forms hired from Orbital Stations to provide benefits such as farming and technology research.
Players can also purchase a Freighter, which can be summoned anywhere and can operate like a mobile base of operations, complete with similar benefits and crewing opportunities. Freighters can also shuttle to other systems in order to trade harvested resources to more favorable economic locations.
Foundation also adds some UI and graphical enhancements, the ability to stack similar resources, several new resource types that can be biome or location-specific and improved planet generation technology.
Update 1.1 is now live on PS4, with no immediate release date for PC players as of this writing. Complete information about the Foundation Update, including patch notes, can be read here, and a video showing off the new gameplay can be seen below.
Our Thoughts
When we reported yesterday on Foundation's arrival, we had said that this update needed to impress or else this game's reputation could further sour. Well, the Foundation Update is absolutely impressive. The amount of new features and gameplay on offer here certainly looks engaging, and we love the sense of ownership that base building and freighter use can bring. Of course, there's always going to be many who still feel burned by Hello Games, but we can't help how folks feel.
Your Thoughts
Is this the sort of content you hoped No Man's Sky would get, or is there something missing from the Foundation Update? Tell us what you think in the comments.
Source: official site
Articles Related to No Man's Sky
Hello Games Announces Incoming No Man's Sky Content Update
No Man's Sky Investigation for False Advertising Underway
No Man's Sky Players Meet, Can't See Each Other
Related:
News
,
No Man's Sky
,
PC
,
Playstation 4
,
Survival
,
Update