We all have been waiting pretty patiently to learn what No Man's Sky online multiplayer is actually going to look like, and now our patience has been rewarded. A significant update from the devs has offered deeper information about the NEXT update along with a trailer showing off multiplayer in action in the sandbox.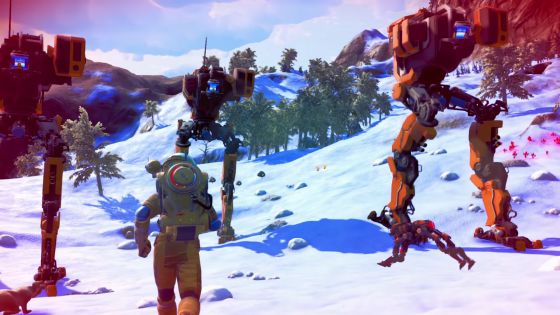 The most striking part of the NEXT update, of course, is the new third-person camera, letting players of the game experience life outside of their own digital skulls on-foot or in their spaceships. The new camera view is part of a visual overhaul for No Man's Sky with improved planetary terrain generation, textures, and other graphical goodies.
Multiplayer itself appears to be a generally open affair, with the announcement heralding the ability for players to play online with friends or complete strangers. The announcement also makes note that it's up to players to decide whether to help people stay alive or prey on others.
Base building in the game is also getting a major upgrade, letting players build significantly larger bases as well as multiple bases on multiple planets. Additional base pieces are also being added and multiplayer will let others put together entire colonies.
Finally, freighter command is also seeing an expansion, with players being granted the power to command an entire fleet of frigates. These fleets can either come along with you as you explore or be deployed to search other parts of the galaxy, and the freighter will also have access to multiplayer missions that can be taken up via the Galactic Command Station on the bridge.
Of course, reading about it is one thing, but seeing it in action – however staged it may well be – is completely another, so there's a trailer showing off gameplay in action below.
Our Thoughts
Naturally, all of this certainly looks and sounds great, and we definitely are fans of the third-person perspective, but the most important question remains unanswered in this announcement: how will PvP flagging work, if at all? From the information granted in this presser, it would appear PvP flagging will be non-existent, which might be a significant turn off for some.
Source: press release
Related:
Multiplayer
,
News
,
No Man's Sky
,
No Man's Sky NEXT
,
Survival Sandbox
,
Trailer
,
Update