At the time of this writing, my husband is right next to me playing the No Man's Sky NEXT update while I'm at my desk watching a bit. But for now, and for people like myself who otherwise can't be in-game, we've got a full-on release website loaded with details on the content update to scour.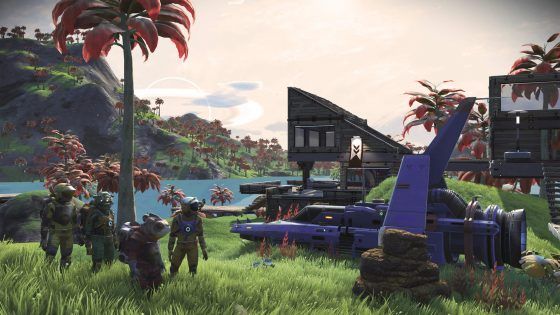 The landing page for the NEXT update is pretty much loaded with practically every detail that Update 1.5 brings to the survival sandbox's table, with deep dives into a number of features that fans are likely already familiar with and a few bits of information that perhaps wasn't otherwise revealed.
Among these updates are a rebalancing of every resource and substance in the game, which now take a planet's biome, weather and stellar classification into account in terms of its location. Crafting has also seen a new layer with the addition of buildable refiners that let players refine raw materials into more valuable materials for advanced recipes.
Exploration can now involve digging up things in addition to charting the stars and planets in this update, with the Terrain Manipulator now able to be used to unearth things like buried ruins and technology modules that can be converted into base parts with a Blueprint Analyzer.
Those are just a couple of highlights from a significantly-sized list of features, so you're welcome to look it all over right here.
Our Thoughts
Yep, that is a whole lot of new stuff to explore and find out, and even more for us to unpack as this update continues to play out. We're looking forward to seeing how this whole new chapter of No Man's Sky plays out. And I, personally, am going to have to ignore my husband playing the game literally three feet away from me.
Source: official site
Related:
Multiplayer
,
News
,
No Man's Sky
,
No Man's Sky NEXT
,
Survival Sandbox
,
Update