Two No Man's Sky players meet in-game during play, but are unable to see each other according to reports from a shared livestream.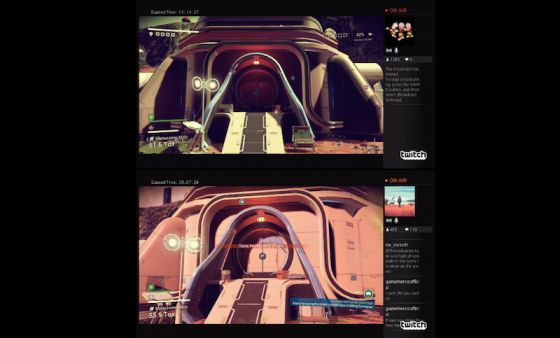 The needle-in-a-haystack event took place when a player named SadCactus arrived on a planet that had been already discovered by another player named Psytokat. SadCactus immediately sent a message to Psytocat and the pair quickly streamed to Twitch in hopes of filming their first contact. When the pair finally arrived at the same location, it turned out that they were not able to see each other in-game.
The assumption being made by many is that each planet, while in a shared universe, operate in personal instances which allows players to pause the game. The inability to meet other players in No Man's Sky contradicts statements Hello Games owner Sean Murray made during an interview in 2014. Since then, Murray has mentioned in his personal Twitter that No Man's Sky is not a multiplayer game.
Our Thoughts
We'll admit to some disappointment in the revelation that players don't actually share the same space in-game beyond markers left behind with discoveries, especially since many players are likely heading to the game's galactic core. It's unclear whether this is intended design in order to keep servers stable and limit players fighting for resources or if seeing other players personally in-game will be patched later, but we're also not incredibly angry about the news.
Your Thoughts
Do you think the fact that players can't see each other in No Man's Sky is a "nontroversy", or is this a case of Sean Murray lying to fans? Give us your thoughts in the comments.
Source: Kotaku
Articles Related to No Man's Sky
The First Eight Hours of No Man's Sky
No Man's Sky Day One Patch Notes Posted
18 Minutes of No Man's Sky
Related:
Multiplayer
,
News
,
No Man's Sky
,
Single Player