Nova Blitz, a trading card game that promises as much depth as Magic: The Gathering, has been posted on Kickstarter.
Nova Blitz on Kickstarter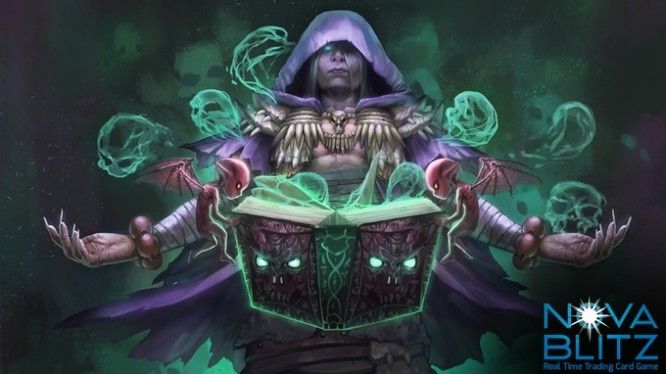 Nova Blitz is a hardcore TCG for old-school card gaming fans. Unlike some games that have simplified the card gaming format (i.e. Hearthstone, Pokemon TCG, Card Wars, etc.), Nova Blitz aims to restore card gaming to its former glory.
From the official Kickstarter page:
Nova Blitz plays totally differently to every other trading card game. You summon units, play powers, and duel in real time. Turns are simultaneous, with both players playing at once, so there's no waiting for your opponent. Games take less than five minutes! And, in combat, the hidden attack and block orders let you bluff and counter-bluff your opponent.
The developers are also building several unique features into the game. The team has eliminated Screw Shuffling (meaning players no longer get mana screwed) and have implemented Smart packs (meaning players always open packs they want) and On-Demand Drafts (real draft picks where players keep the cards they pick and never have to wait on other players).
The development team has quite a pedigree, guaranteeing Nova Blitz is not some runt-of-the-mill Kickstarter. Past projects include Magic: The Gathering, MTG Online, Saints Row IV, Axis and Allies, Dungeons and Dragons, and the Star Wars TCG.
For more information, visit the official Nova Blitz TCG Kickstarter page here.
Source: Kickstarter
Related:
Card Game
,
Crowdfunding
,
Kickstarter
,
News
,
Nova Blitz
,
Update