Update
Today's the day people! Though the definitive price for the Oculus Rift pre-order bundle, which also includes EVE: Valkyrie and Lucky's Tale, hasn't been announced yet, money is not something you'll have to worry about immediately, as you won't need to pay for the pre-order immediately. Today, at 4 P.M. GMT, 11 A.M. EST and 8 A.M. PST, you'll be able to pre-order the Rift. Are you going to buy one?
Original Post
Do you like video game immersion? Do you like funny-looking headgear that instantly identifies you as a card-carrying member of the nerd elite? If you answered yes to those questions, then you might be happy to learn that the Oculus Rift virtual reality headset will be available for pre-ordering on January 6th! MMO players, take note, because Oculus is including a copy of CCP's EVE: Valkyrie title with each purchase.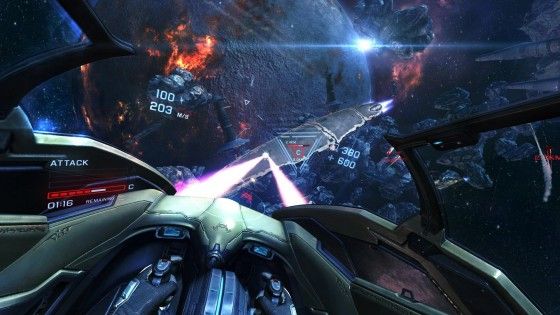 And speaking of purchases, what can you expect to pay for the long-awaited consumer version of the Oculus Rift? That's a great question, and one that Oculus wasn't keen on answering in today's Facebook announcement. Rest assured that we'll know by Wednesday, though, since pre-orders begin at 11:00 a.m. EDT. If you have questions beyond the price point, Oculus founder Palmer Lucky will take to Reddit for an AMA session on Wednesday, January 6th at 9:00 p.m. EST.
Several MMOs and MMO-likes already offer support for the Oculus Rift, including Vendetta Online, War Thunder, Elite: Dangerous, Star Citizen, and others.
Our thoughts:
While it's a bit annoying that Oculus made an announcement about an announcement and neglected to mention the one thing that everyone cares about (the price), it's still exciting to see virtual reality move forward. As someone who has played Elite on a Rift dev kit, I can assure you that VR will change the way you game, provided you have the stomach for it.
EVE Valkyrie
,
Oculus Rift
,
Virtual Reality