Today is the day – the World of Warcraft Legion Beta testing is starting, and many players who were not in the Alpha are now eagerly refreshing their inboxes and account pages to check if they got in. While waiting, here's some information to prepare you for participating in the Beta!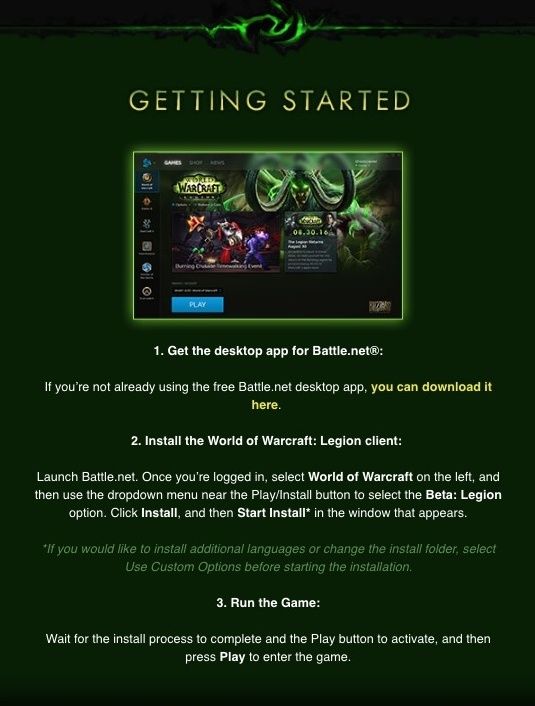 The World of Warcraft Legion Beta will be offering level-100 templates as well as a great deal of content, which should give players a pretty good idea of what's to come in a few months. The official Legion Beta patch notes reveal that the available content will include among other features the starting experience for the Broken Isles as well as the new level-up and max-level zones, the Demon Hunter class, the Class Halls, dungeons, raids and world bosses, as well as the new Artifact system.
However, during Tuesday's dev stream, it was clearly stated that not everything would be released in the Beta, and it goes without saying that content is subject to change before making it to the live version of the expansion.
If your account has been selected to participate in the beta test, it will already be flagged for access and and email will prompt you to install the World of Warcraft Legion Beta client directly from the menu in the Battle.net desktop app. As always, Blizzard warns against scam and phishing attempts and encourages players to log into their Battle.net accounts to verify that there is a Legion beta license attached.
There is no NDA for the Beta test, so players can share their experiences in any way and to any degree that they wish. It has also been stated that today's wave of invites is only the beginning and more players will be progressively given access to the Beta test, so players who have not received emails for the time being can still hope.
Our Thoughts:
No, we haven't received *the email* yet, but we discussed the topic of getting or not in the Beta quite a lot! We know that after such a long wait, players couldn't get their hands any faster on Legion and frustration at not being included in the Beta test is to be expected.
However, it's worth noting that getting burned out on the new content already is not ideal for when it goes live, and it might be nice to have a few surprises left when exploring the live expansion. After all, it's only a few months until we can all access a version of the expansion that is complete, non-fragmented, and ideally with as little bugs and errors as possible.
How about you? Would you rather see Legion now or later?
Related:
Beta
,
Blizzard Entertainment
,
Legion
,
MMORPG
,
News
,
World of Warcraft