A new online competitive RTS with a pretty big genre name tied to it has begun its first steps into the wider online gaming world. Today marks the launch of the Total War: Arena open beta, complete with a brand new faction being added to the game's lineup.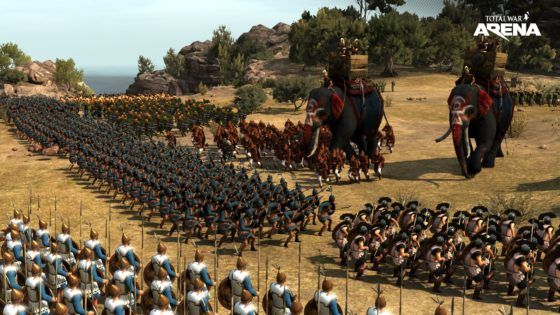 The Carthage faction joins the existing Greeks, Romans and Barbarians in the online 10v10 theater of war. Players will take command of Carthage's Hannibal Barca and his brother Hasdrubal, who bring with them new units such as the intimidating war elephant.
According to the announcement, open beta will operate a bit more like a soft launch, as all progress made by players during this phase will carry over once the game launches in full. In the meantime, the devs promise additional factions and features to be added later.
"We are proud and excited to share the results of our work with players all around the globe," says Wargaming's Evgeniy Shukin. "We've crafted a game that easily lets newcomers jump in and start battling, while fulfilling the promise to seasoned veteran strategy players who have been at war for years."
Details about Total War: Arena can be found on the game's site and a trailer heralding the start of open beta is below.
Our Thoughts
The online RTS arena is definitely seeing some expansion, so we hope that the Total War pedigree will be enough to make it rise above other similar titles while still owning up to that same pedigree. Here's to a successful and enjoyable soft launch for both Wargaming and TWA's players.
Source: press release
Articles Related to Total War: Arena
Total War: Arena Beta Impressions
Total War: Arena Game Page
The MMO Alpha and Beta List
Related:
News
,
Online RTS
,
Open Beta
,
Total War: Arena