"You may have noticed that we've been a little quiet lately. If you've been with us long enough, you know that being quiet usually means we're thinking really, really, hard about something," starts the newsletter. That something is the announcement that Orcs Must Die! Unchained Siege Mode is being dropped from the title due to player feedback.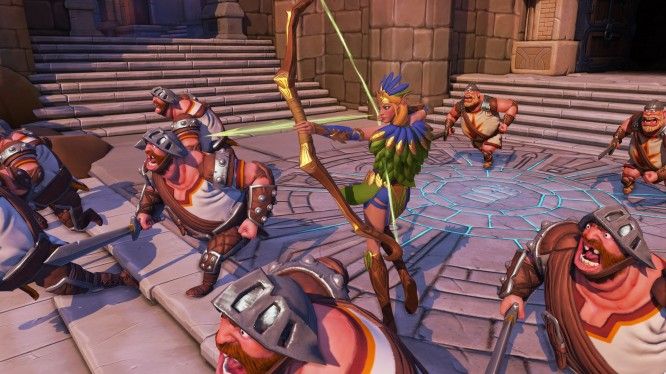 According to the newsletter, the team have had to come to terms with the fact that Siege Mode fell short of expectations despite being huge fans of the PvP mode. "Siege and Survival modes have competed with one another more and more for development resources," reads the letter. "Ultimately, the Siege game mode has a small hardcore group of players, but it isn't building a healthy long-term community around itself."
As a result, Survival will be the sole mode of OMDU and Siege will be completely dropped during the next update. Whether a competitive mode will return to the title is undecided, but currently Siege Mode is not a fit for the game as the devs try to capture the magic of the previous Orcs Must Die titles. "We're doubling down on Survival mode to bring back the kick-ass OMD gameplay you love," reads the release.
As a result of the Siege Mode culling, account progress and earned items will have to be reset. Additionally, any gold that was purchased and then spent on items will be returned and all accounts will receive a free $5 worth of gold in their account if they log in within the first two weeks of the new update.
A date for this next update is not mentioned in the newsletter, but the team will be hosting an AMA on Thursday, September 22nd on the Orcs Must Die! subreddit, and the team will host a Q&A session on their Twitch channel on Tuesday, September 20th at 3pm CST.
Our Thoughts
It's a shame that the OMDU team had to drop their PvP mode, but the fact that they listened to the fans and the game metrics means the team is willing to do what it takes to create a fun gaming experience despite their own personal desires. We applaud the folks at Robot Entertainment on making the obviously challenging decision to focus on Survival Mode, and we hope that the renewed focus will mean a better game for everyone.
Your Thoughts
How do you feel about the removal of Siege Mode? Do you think this is the best move for OMDU, or do you think the game needs a competitive PvP mode? Give us your thoughts below.
Source: Newsletter
Articles Related to Orcs Must Die! Unchained
PAX East 2016: Orcs Must Die! Unchained Preview
Top MMO News: March 29, 2016
MMOGames PAX East 2016 Awards
Related:
News
,
Orcs Must Die! Unchained
,
PvE
,
PvP
,
Update