If you somehow weren't sure that PUBG has made a monumental influence in gaming, then let the new Paladins battle royale mode be an example. In spite of the perhaps obvious inspiration, Paladins: Battlegrounds is promising something new both in setting and in gameplay.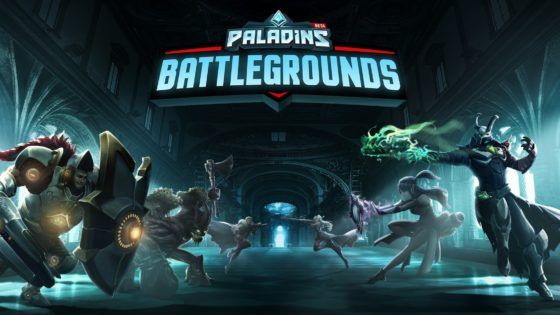 In the announcement, it was explained that the combination of a fantasy setting and the ability-based hero combat of Paladins combines with battle royale for what is intended to be a completely new experience.
"Riding on a mount through this massive fantasy-themed map, looking for gear and cooperating with your team, Paladins: Battlegrounds delivers some of the feel of open-world MMO PvP but all within a 20-minute match," says Paladins executive producer Todd Harris.
Paladins: Battlegrounds is built to be a team-based affair from the ground up. 100 players will spawn into a map that's 300 times the size of a regular Paladins Siege map, where they can ride their mounts across the area to scavenge loot, find dropped crates from passing zeppelins and, of course, find members of the opposing team to take out. Like other battle royale games, there will be a fog that closes in to shrink the battlefield. Last team standing wins.
If you prefer your Paladins without any PUBG, Hi-Rez has also made some reveals at HRX on that front as well:
As for Paladins: Battlegrounds, the mode will be free-to-play as is the case for Paladins entirely. An alpha build of the mode is playable on the HRX floor, while the mode is expected to release sometime in 2018. You can check out the mode's teaser trailer below.
Our Thoughts
Paladins is most definitely stepping on the gas for 2018, both in the base game and with this new battle royale mode. We're not completely sure if this Battlegrounds mode is really unique enough to make it stand out, but we are certainly curious to try it ourselves at some point. We're even more curious to learn how fans will react to this addition, so if you've got opinions for or against Paladins: Battlegrounds, be sure to let us know.
Source: press release
Articles Related to Paladins
Paladins Review
SMITE's RPG Adventure Gets a Nightmare Mode
SMITE's Shadows Over Hercopolis is Flashy and Repetitive
Related:
Battle Royale
,
Hi-Rez Expo
,
News
,
Paladins
,
Paladins: Battlegrounds