With Paladins OB70 just around the corner, some new things are certainly to be expected. One of the headlining new things is the inclusion of a Battle Pass, which will let players of the team-based FPS earn unique cosmetic rewards simply by playing the game.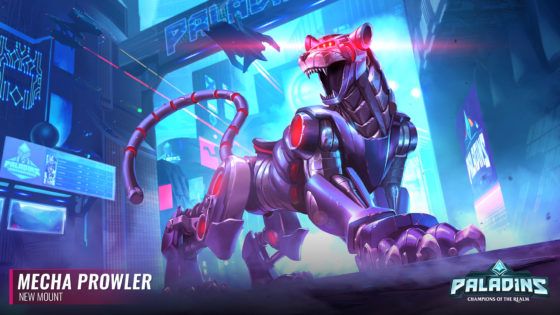 If you've ever gotten a Battle Pass for games like Fortnite Battle Royale, you pretty much know the deal: play the game, earn different level milestones for the Battle Pass, unlock shinies. The Pass rewards players with 50 levels' worth of unique hero skins, animated sprays, and mounts such as the Mecha Prowler seen above.
Three Battle Passes will be issued through 2018, with each Pass being active for about three months. The Battle Pass does have a free-to-play reward track, but those who buy a Pass with 500 Crystals will unlock additional rewards with each level. There's also a Season Pass purchase on offer, which will unlock all three of 2018's Battle Passes at a bundled discount.
OB70 will also bring a Champions Pack to the game's store, which replaces the beta-only Founder's Pack and unlocks all current and future heroes; the close of the Siege of Ascension Peak event; and a number of other smaller adjustments. It all lands to the game on Wednesday, April 25th. Patch notes are here.
Our Thoughts
We do like the idea of having a free track for this particular Battle Pass, though whether the rewards for that track are worth less than the one you'd pay for with Crystals will be up to personal player preference. Overall, though, these sorts of features seem to be popular with shooter fans and so we hope that Paladins players are similarly pleased.
Source: press release
Articles Related to Paladins
First Look at Paladins: Realm Royale
Hi-Rez Sees Your Bad Paladins Fanart and Removes Cards Unbound
Paladins Review (PC)
Related:
FPS
,
Multiplayer
,
Paladins
,
Update