It's another patch for the team-based FPS as Paladins Nightfall descends, bringing another new champion and a host of new skins and items to celebrate Valentine's Day.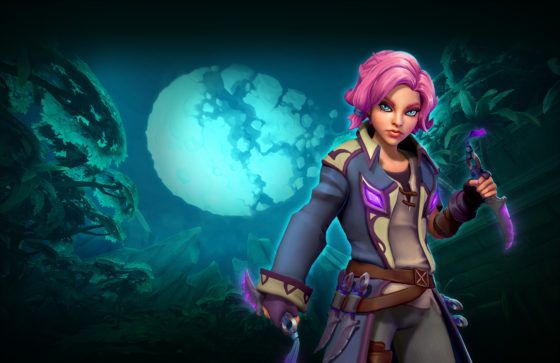 Meet Maeve, a Flank Champion who uses high speed, acrobatic movement and a pair of twin daggers. Described as a "kitten from the rough streets", Maeve has a set of skills that allow her to attack at range, close to melee distance or enhance her movements speed. Her ultimate, Midnight, affects everyone within 300 feet with a debuff that limits their vision to a 30-foot radius.
With Valentine's Day approaching, Paladins has taken the opportunity to cover certain items and Champions with hearts. The Valentine's Chest grants players a chance at items like weapon skins for Androxus, Cassie, and Grohk, head accessories for Pip, Viktor, and Grover, a Candy Unicorn mount, and new outfit items for Skye. The Chest can be bought for a limited time in the in-game store for 100 Crystals.
The patch notes for Paladins Nightfall can be found here, and a video with a look at the new content can be seen below.
Our Thoughts
Hey look, another new Champion! Maeve sounds like a very interesting Flank character with a set of abilities that could make her both challenging to play as well as difficult to defend against. If you're interested in trying her out, you can enter our contest and win the new Champion as well as a unique skin!
Your Thoughts
What do you think of Maeve? Is this a character you'd be interested in trying out, or are you forming strategies to counter her skillset? Do you like the items offered in the Valentine's Chest? Tell us what you think in the comments.
Source: press release
Articles Related to Paladins
Paladins Maeve Vagrant Champion and Skin Giveaway
Paladins Patch 42 Adds a New Champion, PvE and a Chicken Gun
Paladins Beta Player Numbers Reach 5 Million
Related:
FPS
,
MMO
,
News
,
Paladins
,
Patch
,
Update