With a patch name like "Souls and Shadows", you can probably expect Paladins OB48 to be a little bit on the spooooky side. Mostly, it's a reference to the brand new Support Champion that has arrived to the realm. The latest patch also has a variety of new skins for existing characters.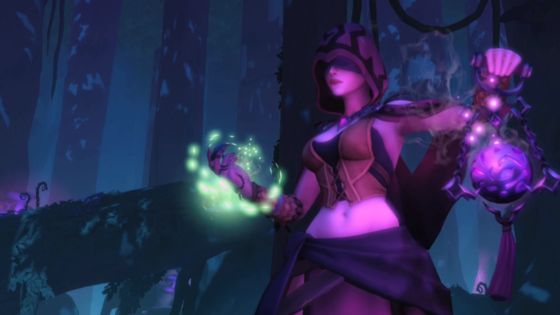 Seris, the Oracle of the Abyss, uses her mastery of dark powers to damage foes, cloak herself or heal allies. Her left-click damages enemies and applies Soul Orbs that can be detonated with the Rend Soul ability, while her right-click lets her channel a heal on a targeted ally. She also has the ability to enter stealth with Shadow Travel and has an Ultimate ability that draws in foes after a short delay.
OB48 also offers up some new looks for Mal'Damba, Maeve, and Bomb King with the Chancellor, Alley Cat and Biz-King collections respectively. There are also the expected tweaks to the existing roster, all of which are detailed in the patch notes. You can also get a brief overview of what's in the new Paladins patch with the video below.
Our Thoughts
Seris looks a bit like a dark version of Ying, at least at the brass tacks level. With skills that let her pile on stacks to hurt foes and the ability to offer some healing support, she could be comfortable in the hands of those types of Support players. We're certainly curious to hear what Paladins fans think of her.
Source: YouTube
Articles Related to Paladins
Paladins DreamHack Valencia Tournament Bringing $50k Prize Pool
Paladins Nightfall Update Introduces Maeve and Valentine's Day
Paladins Patch 42 Adds a New Champion, PvE and a Chicken Gun
Related:
FPS
,
News
,
Open Beta
,
Paladins
,
Update