The release of Paladins Patch 42 brings another array of new content to the online FPS' open beta, including a brand new champion, the debut of a PvE mode, and chickens. Well, technically roosters, since it is the Year of the Rooster.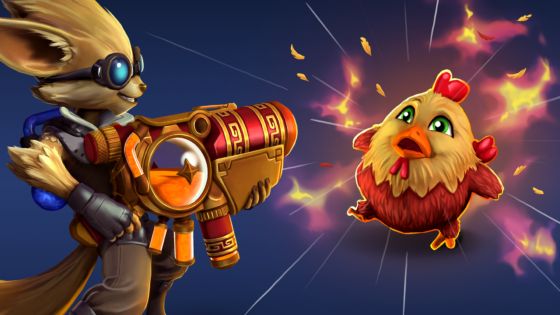 The new champion is Torvald the Runic Sage, a Frontline character who channels Runic Energy through a gauntlet to damage and knockback foes or shield allies. His abilities mostly involve blasting from a short distance, and he has abilities that can siphon enemy shields to recharge his own or silence targets as well.
A PvE mode called "Tank it to the Limit" has been introduced in Patch 42, which has players squaring off against AI enemies for rewards that are similar to those who complete a regular full match. The PvE mode can be accessed by entering the Casual queue, and PvE modes will change on a weekly basis.
In celebration of the Chinese New Year, Pip's Evil Mojo Ultimate ability can now be changed with a Rooster Brewster weapon, which transforms every target the ult hits in to giant roosters. Viktor is also seeing a cosmetic update in the form of the Code Green Collection, which gives him a variety of head, body and weapon options to make him look like a green toy soldier. There are also some map adjustments and balance changes to the roster.
Complete notes on what Patch 42 brings can be read here, and a video briefing of what's in the update can be seen below.
Our Thoughts
We love the customization options being added to Paladins, which shows that the team knows how to have fun with their characters. Of course, the playable content in Patch 42 is excellent as well; adding a PvE option and a new roster addition are always welcome updates. We're looking forward to trying it all out!
Your Thoughts
Have you had some time with Torvald? How does the new Champion feel? Have you picked up any of the new customizations for Viktor or Pip? Give us your thoughts below.
Source: press release
Articles Related to Paladins
Paladins Open Beta Preview
Hi-Rez Expo Reveals SMITE Celtic Pantheon, Paladins Season 1
Paladins Beta Player Numbers Reach 5 Million
Related:
FPS
,
News
,
Paladins
,
Patch
,
Update