Described as "the melee carry with a split personality", Paragon Serath is the newest addition to the MOBA's roster of heroes, carrying a big mace, a dual nature and a skillset that is unique among the carry options.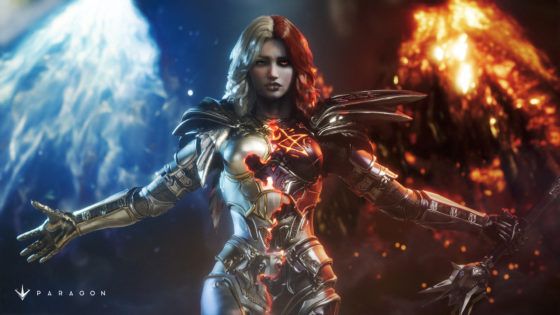 Serath's attacks are all within melee range, with a variety of abilities that help her close distance and bash her foes. While Serath primarily is an angelic figure, she also has a Heresy ability which lets her dark side take over and applies a burning effect to all of her abilities. Additionally, foes suffering from burns will take extra damage from Serath's basic attacks.
Serath will be available for all players on January 10th. A video showing off the new roster addition can be seen below.
Our Thoughts
What is it about the avenging angel/demon that looks like so much fun? Serath is an incredibly impressive addition to the Paragon roster, and her melee-centric focus could make things very interesting for players who like to take up the carry role. We're interested to see how she operates!
Your Thoughts
What do you think about Serath? Do you think having a carry hero with melee attacks is a good idea, or do you think she'll be ripped apart by ranged foes? Give us your input in the comments area below.
Source: press release
Articles Related to Paragon
Epic Games Explains Upcoming Paragon Overhaul
Paragon Adds New Hero Crunch to Roster
Paragon Open Beta Discusses Balance, Bad Actors and Bad Words
Related:
MOBA
,
New Hero
,
News
,
Paragon