Epic Games' MOBA has another large update on its hands in Paragon v.40, otherwise known as The Age of Intellect. The new version headlines its latest hero Phase, a variety of changes to several members of the game's existing roster, and a few other smaller adjustments to the game.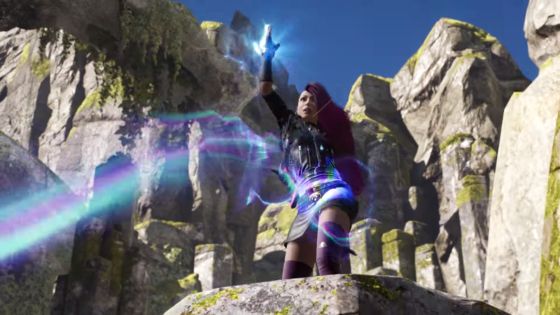 Phase is a character who exhibited remarkable powers at a young age and was under the "care" of Tryon Industries before her breakout. In Paragon, she offers up ranged support to the battlefield with powers that let her tether herself to allies and empower their attacks, or swing them into or out of an enemy's reach.
V.40 will also bring a number of changes to the game's existing roster; Kallari, Steel, Shinbi, Murdock, The Fey, and Greystone are all seeing tweaks intended to further highlight each character's identity. Updates are also being made to 36 of Paragon's cards, along with the introduction of monthly rewards, a Community Tab, and a Golden Key item that guarantees a rare item from Loot Crates.
The Age of Intellect update will land on Tuesday, May 16th. The complete patch notes can be read on the official website, and a trailer for Phase is available to view below.
Our Thoughts
Phase looks like most tether-based support characters in multiplayer titles, but the extra ability that apparently lets her whip allies in or out of a fight could really open up some new strategies for Paragon. Of course, using that skill effectively will likely require practice and a lot of communication: skills that are arguably important to any competitive title, but may not be immediately apparent in PUGs. We'll see how this new character works out!
Source: official site
Articles Related to Paragon
Paragon Gets K-Pop with Shinbi Reveal
Epic Games Explains Paragon Overhaul
The MMO Alpha and Beta List: May 12, 2017
Related:
MOBA
,
New Hero
,
News
,
Paragon
,
Update