Path of Exile, the online free-to-play action RPG by Grinding Gear Games, just announced its newest expansion. Titled Ascendancy, the expansion will feature a bunch of new features, including a challenging labyrinth and new class trees. Let's take a look at the primary features, shall we?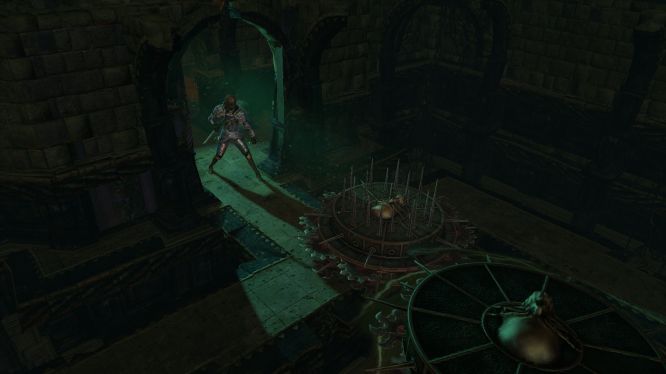 In the Trials of Ascendancy, Emperor Izaro is on the hunt for a worthy successor. And he isn't going to go easy on any potential candidates. Six types of lethal traps have been crafted by Izaro into elaborate puzzle rooms, which is an entirely new gameplay type for Path of Exile!
If you've gotten comfortable with the Trials of Ascendancy and want to shake things up a bit, you should definitely try out the Lord's Labyrinth. You only earn the right to enter once you've completed the Trials of Ascendancy though. Years have passed, but the traps are as dangerous as the day the doors were first opened. An entirely new system takes the stage, which generates sequences of random areas. This causes the overall layout of the labyrinth shift every single day, which in turn uncovers new puzzles and secrets.
Emperor Izaro lives on in this expansion, and you'll have to face him multiple times during the Labyrinth. The fight will evolve depending on your actions in previous encounters. So you can either make it easier for yourself, or screw up big time and have the toughest battle of your life. Defeating him will unlock the power of nineteen competitors from a long time ago, each representing a different style of combat. These 19 new Ascendancy classes each have their own Ascendancy Skill Tree to master, so you better get on it!
The expansion also features enchantments, powerful new gems, exotic new items and challenge leagues! You'll definitely want to check this expansion out when it launches in early 2016. Oh, and while you're here; take a look at the epic expansion trailer displayed below!
Our Thoughts
These new challenges in Path of Exile sound pretty epic, and we can't wait to find out which new Ascendancy classes will become available. But first, we'll make the Emperor fall, and we'll do so with all our might!
Source: Press Release
Related:
Expansion
,
Grinding Gear Games
,
MMORPG
,
News
,
Path of Exile