Well, it looks like the early portents were true. A Path of Exile PS4 release has been officially announced by Grinding Gear Games with details and all of the pomp and circumstance that an announcement like that brings.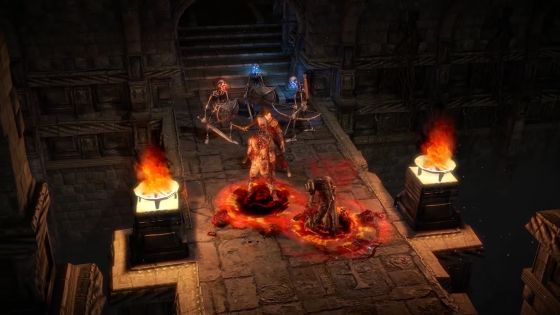 Path of Exile is making its way to the PS4 some time in December, opening up the MMOARPG to an all new audience. Naturally, it will be arriving with all of its usual bells and whistles like its crafting system, procedurally generated dungeons, and seven classes, each with three subclasses and that absolutely monstrous skill tree. The game will launch as a free to play title and promises to avoid pay-to-win tactics.
The PS4 version will also include content in the upcoming 3.5.0 update, which is said to be the game's largest yet. More information about that is due to arrive next week, but the devs have posted a forum thread detailing one of the update's features: Private Leagues, which will let players put together their own punishingly difficult Leagues for their friends.
As one would expect, the Path of Exile PS4 release has an accompanying trailer that sets the scene for the uninitiated, which you can see below.
Our Thoughts
Based on our time investigating Path of Exile's F2P model, we can pretty confidently say that this one is indeed a fair free to play release while also being an excellent MMOARPG. It's certainly one fans of the genre should look forward to on the PS4.
Sources: press release, official forums
Related:
ARPG
,
Launch Date
,
MMO
,
MMOARPG
,
News
,
Path of Exile
,
Playstation 4
,
Release Date