Sword Coast Legends is coming to PAX Prime and it's playable for the first time! Yes, you heard that right. Sword Coast Legends – the co-op, party-based PC RPG set by n-Space set in the Dungeons & Dragons Forgotten Realms universe from Wizard of the Coast – is now playable. The game offers an all-new way to play Dungeons & Dragons by bringing the roleplaying dynamic between players and a Dungeon Master to life with a real-time DM mode. If you want to have the opportunity to play the game for the very first time, you should probably visit Wizards of the Coast (Booth 1642) at PAX Prime, just saying.
Early Access Details
For those of you who cannot visit PAX Prime; no need to worry, your time will come soon. n-Space just announced that fans who pre-order Sword Coast Legends will be provided with nearly three weeks of early access to the game, beginning as early as September 11 for Design Council Members. For more information, you can visit the pre-order section on the official Sword Coast website.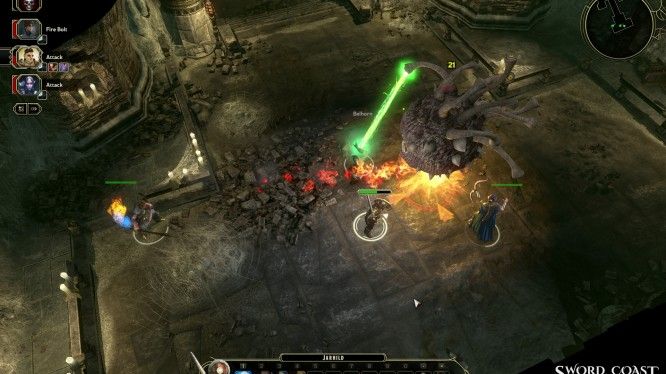 If you want to have the chance to hear more from your favorite n-Space developers however, you should visit the Sword Coast Legends PAX panels at the following dates and times:
Friday @ 8:30am: D&D Live with Acquisitions Inc. | Main Theater
Saturday @ 1:00pm:  Digital Dungeon Masters:  Sword Coast Legends brings Tabletop-style D&D to Video Games w/Tim Schwalk, Jay Turner | Wyvern Theater
Saturday @ 5:00pm: Origin Stories w/ Ash Sevilla | Chicken Theater
Saturday @ 6:30pm:  Foreplay Romance in Games w/ Jay Turner | Sasquatch Theater
Monday @ 10:30am:  Design a Dungeon w/ Jay Turner | Wyvern Theatre
But that's not all folks! We've got the newest trailer for Sword Coast Legends for you, and I would just like to point out that it's looking pretty darn awesome. You can view the full trailer below:
Are you going to visit PAX Prime? If you are, what are you most looking forward to?
Source: Press Release
Related:
Early Access
,
n-Space
,
News
,
PAX Prime
,
RPG
,
Sword Coast Legends