It's been a rough and bumpy road for Motiga, the developers of the MOBA Gigantic, and unfortunately it appears to have ended on a sad note. CEO Chris Chung has officially confirmed that a Motiga layoff has occurred, confirming earlier assumptions as friends have said their goodbyes on Twitter.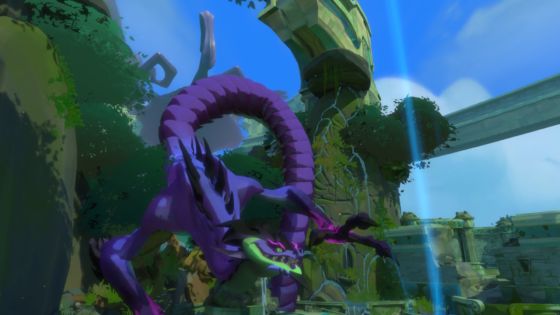 According to the statement from Chung, Gigantic will be left to a bare few employees. For all intents and purposes, Motiga is no more as the game simply was not profitable according to the statement.
"It was a budgetary decision at the highest level. Perfect World as a public company has a profitability goal and they decided to cut parts of the company that were not profitable. In short, Gigantic was not making enough revenue.

Gigantic will be left at the hands of a maintenance team composed of few dedicated folks at Motiga. They are [an] awesome group of people that will be working on the game until some time in the future when it doesn't make sense anymore."
Chung later amended the statement, noting that it was made "at a vulnerable moment" and that he may not have all of the facts regarding the decision.
There's currently no additional information about the future of Gigantic, but it would appear that the MOBA will be in maintenance mode for an indeterminate length of time to ultimately be sunsetted later. As of this writing, there are no new developments on the game's Twitter page, forums, or website.
UPDATE Nov. 3, 5:16pm EDT: Perfect World issued a statement regarding the reduction of staff at Motiga as well as closure of the Seattle office of developer Runic Games. The full statement can be read in its entirety below:
"Following the news that Motiga has reduced the staff of its studio, Perfect World Entertainment can confirm that as the publisher of Gigantic, the game will continue to be available on our platforms. A core team of developers remains at Motiga, who will work with us to support the game and its players, including moving full steam ahead with the upcoming November update and future content. We cannot thank everyone enough for their contributions in making Gigantic the outstanding experience it is today.

Perfect World Entertainment recently closed the Seattle office of Runic Games as part of the company's continued strategy to focus on online games as a service. We're grateful to the team for all of their hard work bringing incredible experiences like Torchlight, Torchlight II and Hob to life. Runic Games will remain a part of Perfect World Entertainment's portfolio of studios, and its games will continue to be available to players, as we stay committed to supporting and growing Runic Games' beloved franchises.

The staff reduction at Motiga and the closure of Runic Games Seattle were unrelated. Perfect World Entertainment stands committed to delivering the best massively multiplayer online gameplay experiences to our players."
Our Thoughts
Speaking personally, Gigantic was literally the only MOBA game that I ever found enjoyable; it's graphic style was great, its character designs were imaginative, its gameplay was fun and fast-paced, and its free-to-play implementation was exceptionally well done. Though, perhaps, it was also too generous. Or maybe the MOBA bubble finally burst when Gigantic arrived.
In any case, it's all supposition. We wish the very best to those affected by the layoffs and hope that they can bring their imagination to a variety of other games.
Source: Destructoid
Articles Related to Gigantic
F2P Kingdom: Free, Fun, Gigantic
Gamescom 2017: Gigantic Teases a New Map
Gigantic's Corruption Update Adds New Hero and Features
Related:
Gigantic
,
Industry
,
Layoffs
,
MOBA
,
News
,
Perfect World Entertainment