If you're anything like me, you hate the warmth and heat of the sun, stepping outside only when the mere act of walking isn't punished by a sweat flood or when you want to grill food. For those times when you want to stay inside and play MMOs, a lineup of Perfect World Summer events will help keep you entertained and out of the punishing hell-orb floating overhead.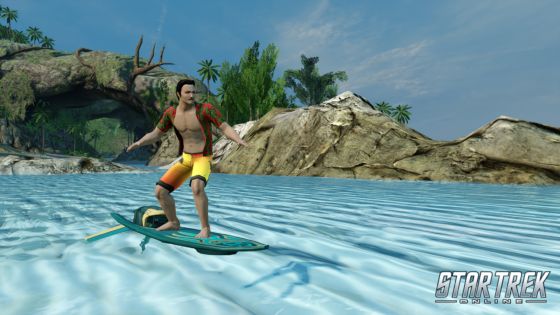 For Neverwinter players, there will be the Protector's Jubilee from June 20th to the 27th to celebrate the game's fourth anniversary. Rewards during the Jubilee include mounts, Great Hall furniture, a Firebreathing emote and more. After that, there's the Summer Festival from July 6th to the 27th, with returning activities like the Summer Feast, Troll Fight, Water Battle and more.
Star Trek Online will get the Lohlunat Festival starting June 8th until July 20th. Captains will be invited to Risa for some downtime at the new Summer Resort, where players can complete challenges for pets and costumes. Players can also earn Lohlunat Vouchers which can be turned in for unique T6 ships.
Champions Online will hold a Patriot's Celebration between June 29th and July 14th. The festivities combine Independence Day and Canada Day and let players queue up for the Red Winter Alert to earn Patriot Tokens. These Tokens can then be turned in for new auras and emotes.
The rest of the Perfect World library will also be hosting events for the Summer season, including the Pinata Bosses event July 17th through the 21st in Perfect World International, the Divinity content update for Swordsman on June 22nd, and Forsaken World's Summer Games running from August 7th to September 1st.
Our Thoughts
There is a LOT of stuff to do in all of these different MMOs, so fans of each should have no problems enjoying the Summer months with their favorite titles. Bring on the air conditioning!
Source: press release
Articles Related to Perfect World Entertainment
PS4 and XB1 Neverwinter Puts On the Shroud of Souls in June
Star Trek Online Escalates Season 13 to Console
Champions Online Adds the Witch Archetype
Related:
Event (In Game)
,
MMORPG
,
News
,
Perfect World Entertainment