Being the first player to discover the hidden Guild Wars 2 griffon mount is a pretty cool achievement on its own, but the devs at ArenaNet have put a lovely little cherry on the top of that cake by sending that player a nice little present.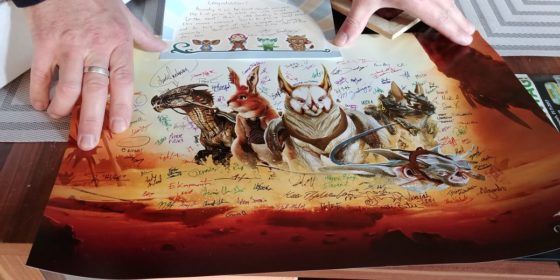 The present was shared by redditor Yukiiwa, the girlfriend of the lucky player in question. According to the post, a surprise package arrived at the home of his parents simply from "arenanet". Inside the package was a card and a piece of artwork signed by the staff.
"According to our top secret records, you were the first person to unlock our ultra secret griffon mount," reads the card. "Here's a little something to commemorate this awesome achievement. Thanks for playing Guild Wars 2 and for being a part of such a unique and amazing community."
According to Yukiiwa, said recipient is "freaking out right now". Understandably.
Our Thoughts
How awesome and lovely is that? Our sincere congratulations to the player in question for being confirmed as the very first finder of the griffon mount. We're big fans of the mount ourselves, even if now and again it exhibits some rather odd behavior.
Source: Guild Wars 2 subreddit
Articles Related to Guild Wars 2
The Tyrian Chronicle: Guild Wars 2 Halloween Items You Must Get Now
The Shadow of the Mad King Returns to Guild Wars 2
Guild Wars 2 Path of Fire Review
Related:
Community
,
Guild Wars 2
,
MMORPG
,
News
,
Path of Fire