Pokemon GO players running iOS 11 devices will soon see their game world come to a little more vivid life. In a future update, new Pokemon GO AR features will be introduced that will bring new dimension to the digital critters as well as some new gameplay experiences.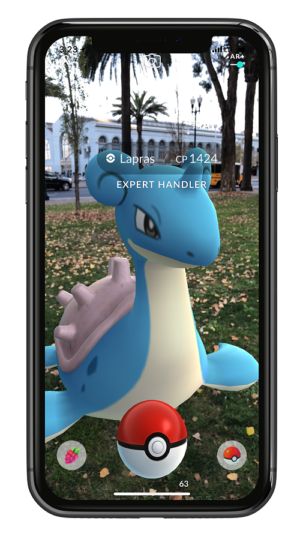 The new augmented reality functions, dubbed AR+, will have individual Pokemon appear more accurately when viewing the world through the lens of the game. A more realistic sense of position, perspective, and size are all possible with the new upgrade.
The update isn't just purely visual, either. The new feature allows players to attempt to sneak up on Pokemon before capturing. Successfully doing so will earn you a special capture bonus as well as an Expert Handler bonus that awards more XP and Stardust. That said, Pokemon won't just wait completely idle, as they'll be aware of your approach if you move too quickly.
The feature is specific to Apple devices running the ARKit framework. That means iPhone 6 and newer, the fifth generation iPad and all new iPad Pro models are included. Everyone else will be left out.
Our Thoughts
While the mental image of people slowly creeping up on something that isn't visible to anyone else might strike as humorous, we have to admit that doing so in real life is probably a lot more involved and interesting than holding down a sneak button from the games. We also hope these new AR+ features are able to make their way to other players such as those on Android devices.
Source: press release
Articles Related to Pokemon GO
6 Games We Want to See Given the Pokemon GO Treatment
Niantic Reveals Harry Potter: Wizards Unite Mobile AR TItle
Niantic Acquires Evertoon Team for Social Features in Games
Related:
AR
,
mobile gaming
,
News
,
Pokemon GO
,
Update