We've all been wondering when Pokemon GO will provide its next big content push. It looks like we have to wonder no longer. New Pokemon GO co-op gameplay is arriving to the mobile title with updates that will focus heavily on co-operative and multiplayer offerings.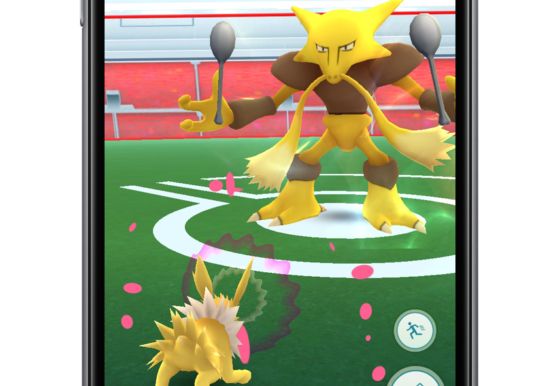 The first major change to PoGo starts today with adjustments to Gyms. Gyms will now be able to house six different Pokemon which can be filled by members of that Gym's team. Opposing players will be able to pit their own Pokemon against the Gym's lineup in the order they were added, and as time wears on, Pokemon assigned to a Gym lose Motivation and Combat Power. Friendly members of the Gym's team can keep a Gym's creatures motivated by feeding them Berries.
Gyms are also getting a new spinner feature similar to the ones found at PokeStops. Players aligned with a Gym's team can head to their nearby Gym and get unique items. Players can also earn Gym Badges that can be leveled up to get increased bonus items and rewards at friendly Gyms.
Another update due later will introduce Raid Battles, which will be the first instance of direct co-op in Pokemon GO. Up to 20 other players near each other can team up to take on powerful new Pokemon in time-limited events that spawn at Gyms in the area.
Once the Raid Boss appears, players will only have five minutes to take the boss down and earn unique rewards as well as a chance to capture the Raid Boss Pokemon. Raid groups can be formed regardless of affiliation with Team, and there will also be new features introduced that will let friends share codes to form a private raid party.
The Gym update is starting its launch today, while Raid Battles will release sometime later this Summer. Both features will be free updates. More information can be found on Pokemon GO's official site.
Our Thoughts
This is much more like it! We've said before how ignoring the multiplayer facet of Pokemon was a huge missed opportunity for Pokemon GO, so these new features definitely sound like a step in the right direction. Are you eager to try these features out, or have these updates arrived too late?
Source: press release
Articles Related to Pokemon GO
Pokemon GO Legendaries and Multiplayer Updates Due This Year
6 Games We Want to See Given the Pokemon GO Treatment
Games Like Pokemon GO
Related:
mobile gaming
,
Multiplayer
,
News
,
Pokemon GO
,
Update