Usually, it takes more than a single successful game release to have a major effect on a company's stock prices, but Pokémon GO has increased Nintendo's shares by more than 8% after only a single day.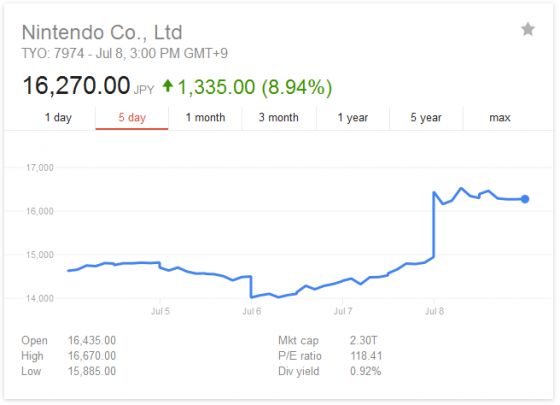 It's no surprise that Pokémon GO was an instant success, or at least gathered a large amount of attention on launch. The game manages to hit three key markets that don't require a shared interest.
First, it's a mobile game, which is the most rapidly growing sector of gaming. Then there's the appeal to the die-hard Pokémon fan club, and finally it strikes a chord with the Ingress player base, which has more than 10 million downloads on Android alone.
Beginning on Wednesday, likely due to Pokémon GO's soft launch, Nintendo's stock slowly started to climb, but it wasn't until Friday, July 8, that it skyrocketed. Starting at 14,000 Yen (roughly $139), the stock finally settled at a solid 16,270 ($162) at the market close.
According to Reuters, this made Nintendo the most heavily traded stock on Tokyo's main board and increased the company's market value to $23 billion.
Our Thoughts:
Although we expected Pokémon GO to be a success, this is probably more than even Nintendo hoped for. It's not exactly a revolutionary game, it's basically Ingress with Pokémon skins, but it has made itself appealing to a very large market. We'll have to see whether the game sticks or if players will eventually lose interest.
Source: Reuters
Recent Articles Related to Mobile Gaming
Mobile ARPG Heroes of Incredible Tales Launches Worldwide
Ubisoft Launches Rabbids Heroes Mobile Card Game
Riot Standardizes League of Legends Penalties and Releases Mobile App
Related:
Industry
,
Mobile
,
mobile gaming
,
News
,
Pokemon
,
Pokemon GO