A Pokemon Go DDoS attack is underway just as the game announces a 26 country launch.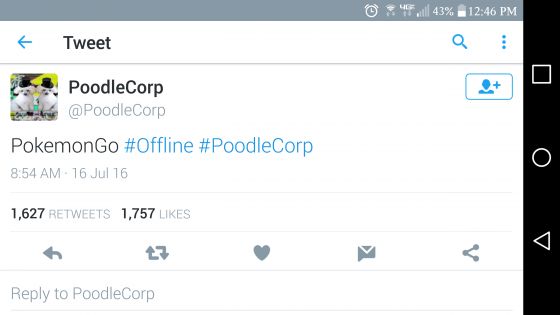 According to the tweet above, a "hacker" group calling themselves PoodleCorp have claimed responsibility for taking Pokemon Go's servers offline. The official Pokemon Go Twitter account has yet to officially acknowledge the attack or otherwise mention the specifics of the server shutdown beyond that they are working on it. In the meantime, the servers remain down at the time of this writing or are otherwise experiencing spotty connections.
Our Thoughts
The whole "This is why we can't have nice things" axiom certainly applies here. We're not sure what statement, if any, is attempted by this group of "hackers", but we're also thoroughly unimpressed with the level of technical prowess that's required to pull off a successful DDoS attack. The only conclusion that can be drawn is that it's another attempt by a group of bored folks trying to troll the fun of others.
Your Thoughts
What do you think about PoodleCorp and its attempt? Do you think this will mean stronger security or more stable connections will be implemented for Pokemon Go? Does this hacker group have the right idea? Tell us what you think.
Source: Twitter