If you thought Niantic was going to let an opportunity like the release of a Pokemon movie go without mention then you may not be paying attention to the world of online gaming enough. Pokemon Go is Hosting a Detective Pikachu tie-in event to celebrate the release of the film. Starting tomorrow, Tuesday, May 7th and running until May 17th a number of different things will be taking place in Pokemon Go and for the sake of simplicity here they are listed below.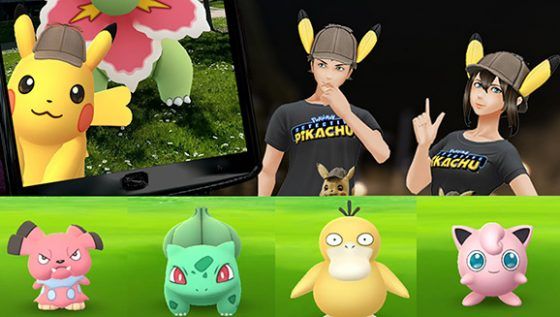 Double XP on All Pokemon Caught in the Wild
Increased Encounters with Prominent Pokemon from the Movie; Bulbasaur, Jigglypuff, Psyduck, Aipom, and Snubbull.
Detective Pikachu Photobomb in Snapshot Photos leading to being able to catch Detective Pikachu
Detective Pikachu Inspired Raids
Detective Pikachu Inspired Field Research
Detective Pikachu Themed Shirt
Detective Pikachu Themed Hat
As of the time of writing this, we don't know any details like how often you'll be able to catch Detective Pikachu, who will be in these raids, or what the field research will entail. We also know that there will be a chance to see a shiny Aipom in the wild. Sadly Ryan Reynolds won't be voicing Pikachu. But it would be so cool if he did. While the event begins tomorrow if you want to see the movie you'll have to wait until the end of the week, it releases in theaters on May 10th in most countries around the world.
Source: Pokemon Official Site
Related:
Event (In Game)
,
News
,
Niantic
,
Pokemon
,
Pokemon GO