According to data collected, Pokemon Go usage has hit its peak point in the US, signalling a downward trend in overall interest.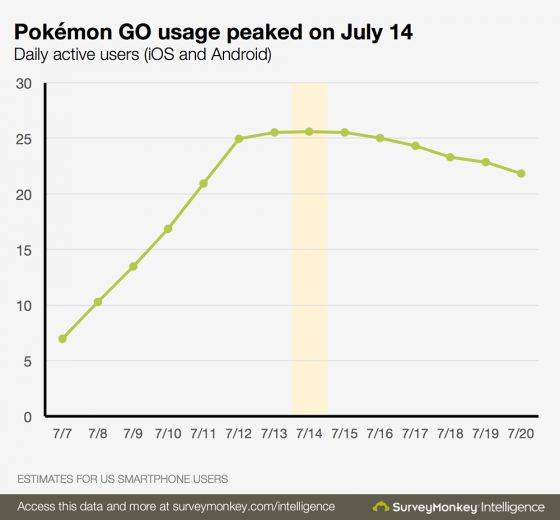 Data collected from SurveyMonkey shows that usage, downloads and search interest in the mobile game has hit a slow decline, with usage hitting its peak on July 14th, downloads hitting their highest at launch on July 7th and search interest hitting peak from July 13th through the 16th.
The trends do not include data from other countries across the globe and the firm also notes that data could always change as the game continues to release worldwide. They also make a point that a downward interest trend doesn't necessarily indicate Pokemon Go is on a decline fiscally. "As we've seen from other games there's still every chance that the game attracts millions of users (and makes millions of dollars) for months, and even years to come," states the firm.
Our Thoughts
A downward slope in interest was just a matter of when, not if. Pokemon Go has had an astonishing launch as far as mobile gaming goes, and we could see another spike in all of these metrics if and when new features are included in to the game.
Your Thoughts
What do you think about this data? Do you think the Pokemon Go bubble has finally burst, or is this just another pattern inherent in any major mobile game's release? Tell us your thoughts below.
Source: SurveyMonkey
Related:
Data
,
Metrics
,
News
,
Pokemon GO