Even after the explosive success of The Witcher 3: Wild Hunt, it appears that CD Projekt RED is not one to rest on its laurels. An announcement today has confirmed that the Polish government has approved approximately $7 million to fund CD Projekt Red multiplayer tech as well as other development initiatives proposed by the company.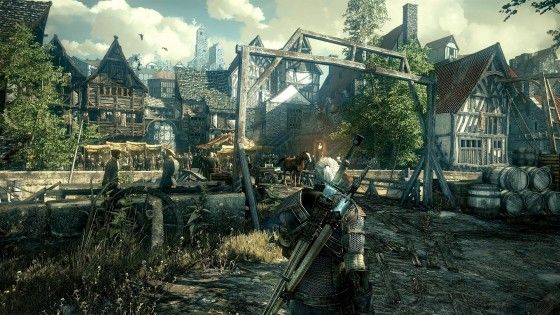 The Polish National Center for Research and Development has issued a grand total of 116 million PLN – just under $27.5 million – to multiple Polish video game developers in the interest of making the country's game dev industry world-renowned. CD Projekt RED earned the greatest cut of this funding, with four different development proposals made by the company greenlit for 30 million PLN.
The proposals in question involve research in City Creation, Animation Excellence, Cinematic Feel and Seamless Multiplayer. Each field of research is elaborated upon further, with the multiplayer portion described as looking in to creating "unique gameplay for many players, taking into account the search of opponents, session management, replication facilities, and support of a variety of game modes along with a unique set of dedicated tools."
What these proposals mean in terms of specific in-development titles was not elaborated on, but CDPR's president Adam Kiciński stated that the company's research would benefit the Polish game dev community entirely.
"Developing videogames is a hyperinnovative activity, but also one which carries substantial financial risks, involves continuous R&D work and requires much experimentation and prototyping along the way. The GameINN program – a fruit of our industry's collaborative efforts – will, in the coming years, enable Polish developers to carry out nearly 40 projects worth 191 million PLN."
Our Thoughts
It's definitely anybody's guess what CD Projekt RED are planning to do with these new development projects, and it's also hard to believe that their tools could make gaming look and feel any better. Of course, we're most intrigued by what their multiplayer plans will be. Could this be leaning towards work on Cyberpunk 2077, or a new game entirely?
Your Thoughts
What do you make of these goals made by CDPR? Would you like to see multiplayer in The Witcher 3, or would you like to see the developer create a new multiplayer IP instead? Tell us in the comments!
Source: WCCFTech
Articles Related to CD Projekt RED
Gwent Lead Designer Leaves CD Projekt RED
Gwent Closed Beta Gets a Date
Hands-On with Gwent at Gamescom
Related:
CD Projekt Red
,
Industry
,
Multiplayer
,
News