Console gamers will have a new space-faring sandbox to look forward to as Frontier has announced plans for a PS4 Elite Dangerous, which is due to arrive to the system in 2017.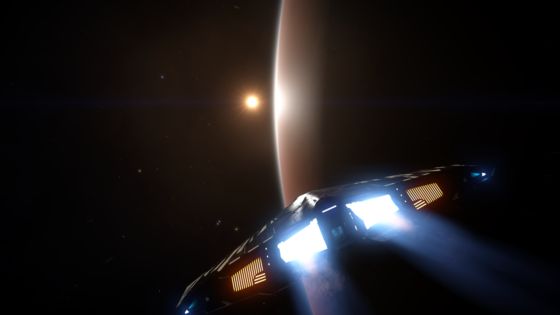 The complete game will be arriving to the console, including all current DLC associated with the Horizons season pass. In addition, the PS4 version of the game will offer unique features such as galaxy map control through the DualShock controller's touch pad, hotkey settings for the touch pad, and optional motion-based headlook controls to track enemy movements. Frontier is also working on "enhancements" for the PS4 Pro, but did not provide specifics in the announcement.
Frontier CEO David Braben expressed his excitement for the coming console release, and even alluded to a spate of recent alien discoveries in the game's universe. "Elite Dangerous is unlike any other space game, with a rich multiplayer or single-player space and a player-driven narrative that's really heating up," said Braben. "The galaxy has been stable for centuries, but all that is about to change. PlayStation 4 players will be joining our galaxy at a very exciting time."
Elite Dangerous' arrival to the PS4 is due in Q2 of 2017. A new trailer marking the announcement can be seen below.
Our Thoughts
Well! Consider this a bit of a surprise, but a pleasant one to be sure! Elite's real-time flight controls could map to a PS4 controller quite easily, and the added control functions being developed make this sound like more than just a quick port. We have to wonder if cross-platform play will be available, but perhaps that information will come as we close in on Q2 2017.
Your Thoughts
Are you excited for Elite Dangerous' arrival to the PS4, or do you think this is a game that's better suited to the PC? Share your thoughts with us below in the comments.
Source: press release
Articles Related to Elite Dangerous
An In-Depth Look at Elite Dangerous: Horizons – Guardians Patch 2.2 and 1.7
Elite Dangerous Alien Ruins Discovered by Pilot
Elite Dangerous: Guardians Release Date Announced
Related:
Elite: Dangerous
,
News
,
Playstation 4
,
Release