A new Quake Champions gameplay trailer has made its debut at this year's QuakeCon, giving players a taste of the high-speed online FPS.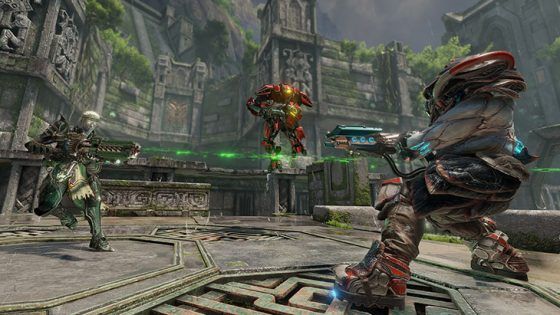 id Software's studio director Tim Willitis presented the trailer at the event's keynote speech, which touts the game as being about "pure speed, pure skill, pure FPS". The speech provided some details on the Champions in the game's roster and hinted that the final game would have at least 12 Champions available for play.
Speed appears to be the emphasis of Quake Champions, with run-and-gun tactics taking center stage over careful positioning. There was also stress that the game was about using what was on the map as effectively as you can. "No loadouts, no limit to the amount of guns you can carry…Time the weapon pickups, or kill your opponents. That's how you get weapons in a Quake game," says Willitis. Quake Champions is also deigning itself as "an eSports powerhouse" with early plans already in place for tournaments and leagues.
The game is set to enter closed beta in 2017 and the gameplay trailer can be seen below.
Our Thoughts
The high-speed, high octane, run-and-gun online FPS is back. Quake Champions looks like the classic online shooting action that fans of the original Quake and other games like Unreal Tournament have been hungry for. This title looks brutally fast and incredibly responsive, and we're itching to get our hands on it.
Your Thoughts
What do you think of Quake Champions? Does this look like the kind of Quake game you've always wanted? Do you think it will become as featured in eSports as the developers believe? Tell us your opinion below.
Source: Official site
Articles Related to Quake Champions
Quake Live Drops Subscription, Adds Price Tag
Speed Round: eSports FPS Showdown – Call of Duty vs. Counter-Strike: Global Offensive
Activision Blizzard Sets Record Profits With 15 Million Overwatch Sales
Related:
News
,
Quake Champions
,
QuakeCon
,
Trailer
,
Video