Hi-Rez Studios has entered the fray of the ever-burgeoning battle royale multiplayer sub-genre with what it believes is a game that does enough different to make a mark. Today's Realm Royale early access release on Steam begins another journey for the studio into a new category…or a new dragon's tail to chase, depending on who you talk to.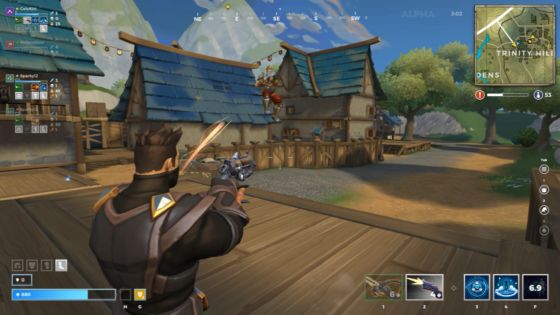 You've been here before, gameplay wise: 100 players drop into a map, loot abilities and weapons, and battle it out. Last ones standing are the winners. You'll notice the plural there because Realm Royale's first major difference is its application of team-based gameplay, with four-player squads being the focus as well as a requirement.
Another difference, of course, is the class system in Realm Royale. Players can choose from one of five fantasy-style classes like a Mage that can soar overhead and rain fire down on foes or an Engineer that can cobble together turrets.
Finally, Realm Royale has locations called Forges dotted around the map. These Forges are places where players can piece together their own Legendary-level weapons. Naturally, players will have to watch their back, as attacks on a Forge will hopefully be common according to the devs. "Gameplay elements like Forges reward players for staying active and taking risks," says executive producer Rory Newbrough. "You can't win a round of Realm Royale by hiding in a bathtub."
Realm Royale is free-to-play and now available on Steam. A trailer for the title can be seen below.
Our Thoughts
Well, if people thought Paladins was trying to rip off Overwatch, then we can't wait to hear what people have to say about Realm Royale! In all seriousness, much like Paladins, Realm Royale sounds like it has a couple of interesting enough concepts that could make it carve out its own niche in the battle royale market. We wish the devs luck and hope players of the game have a good time.
Source: press release
Articles Related to Realm Royale
First Look at Paladins: Realm Royale
Paladins Officially Launches
Hi-Rez's President Takes a Cheeky Poke at Overwatch's Brigitte
Related:
Battle Royale
,
Early Access
,
Free to play
,
News
,
Realm Royale