Have you been secretly dreaming of playing a cool side-scrolling platformer where you could invite all your friends to join on your intergalactic adventures? Look no further than Crunchy Games' MMO StarBreak!
Retro action MMO StarBreak has just been launched on Steam and promises to deliver an innovative experience with countless hours of fun. Best part? All your friends can indeed join. StarBreak is free-to-play and is available for PC, Mac, and Linux.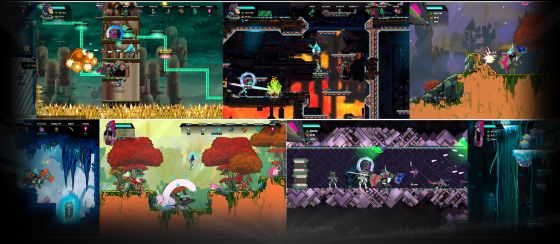 According to its developer, Crunchy Games, StarBreak enables up to fifty players to fight together against legions of dangerous alien enemies and epic-scale bosses while exploring strange sci-fi worlds.
Some of its most notable features are procedurally-generated content and permadeath – but worry not, your spark can reincarnate in a new shell and start all over again!
If you want to know more about Starbreak, make sure you check out Crunchy Games' FAQ, the forums, and the player-run Wiki.
Our Thoughts:
StarBreak looks like a really exciting new MMO. We are particularly intrigued by the concept of sparks, shells and permadeath, as the game promises a fun degree of challenge and learning in order to not need a new shell too often! Not to mention the nostalgic throwback which will surely appeal to many fans of the old-school platformers. We look forward to seeing how StarBreak evolves and hearing your thoughts on it!
Related:
Crunchy Games
,
F2P
,
MMORPG
,
News
,
StarBreak
,
Steam