My.com have introduced the first Scour Dungeon to Revelation Online in the form of The Sunken Galleon, offering a nautical way for adventurers to test themselves in a rewarding PvE arena styled dungeon.
New Dungeon The Sunken Galleon
The Sunken Galleon dungeon will see players diving into a sunken and abandoned pirate ship, haunted by the broken and twisted crew. And where there are pirates, there is surely treasure, though you will have to fight for it. The cool part here is that when you have claimed your prize, you can transform into one of the ship's monsters to prevent other adventurers from doing the same.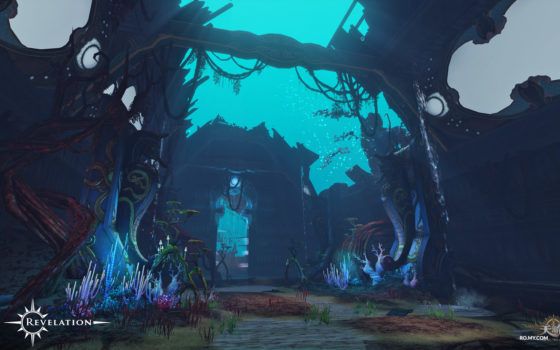 Server Merges
In addition to the new dungeon, My.com have unveiled plans for Revelation Online server merges. This happened yesterday between 1am – 6am PDT, however, alongside the server merges will be a Server-First reset to give everybody a fair chance. This reset was scheduled to happen with the merge, however, this has been postponed until Monday, June 19th, in order to give the community more time to prepare if they wish to take part.
EU servers will have server maintenance on this date at 7pm – 8pm CEST, while NA servers will have theirs at 6pm – 7pm PDT, as well as the opening of their new server, Divine Overlook. So if Server-Firsts are your thing, get yourselves prepared and have a read of this thread for more information.
German & French Localization
For our French and German speaking readers, you'll be happy to hear that the devs have been working on localizing Revelation Online for you and though it has taken longer than they first anticipated, they have revealed that the game should be ready to launch with French and German localization by Q3 of this year. Check this link for more information on this.
Our Thoughts
Scour Dungeons sound like a lot of fun for players who want a challenge in PvE though hopefully, The Sunken Galleon's spelunking vibe isn't too annoying, as nobody likes underwater content. It's also nice to see the team give the community a fresh chance at those Server-Firsts following the server merge and taking community feedback onboard. Good luck to anybody going for those! Do let us know how you get on.
Source: Forums
Related Articles
F2P Kingdom: Is Revelation Online Free to Play Really Pay-to-Win?
Neowiz Reaffirms Commitment to a Western Bless Release
Echoes of Eorzea: FFXIV Beginner's Guide Part 2
Related:
MMORPG
,
My.com
,
News
,
PvE
,
Revelation Online
,
Servers
,
Update