You read that right; an in-game board game along with a guild vs. guild area is arriving to Revelation Online in the Stardust update, the first major patch set to hit the MMO's open beta.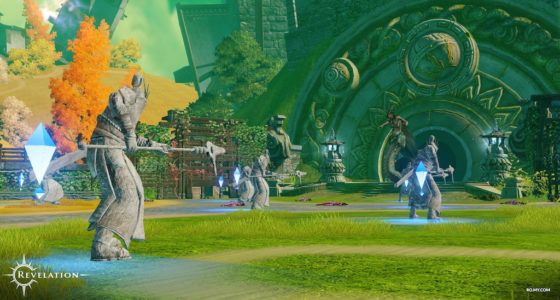 GvG takes place on a location known as Shatterstar Island, a map where guilds will battle each other to take control of mining machines that will harvest precious minerals. Further details on the map are expected to be announced later.
As for the board game portion of the update, the new game within a game can be found at Faerie's Funland, an amusement park where players take part in a living board game that sees them rolling dice and taking part in minigames and other challenges. Successfully completing the Funland board game rewards new cosmetic items.
The Stardust update will also offer up some localization refinements and "various gameplay enhancements" which were not immediately clarified in the press release. More details on Stardust, including a release date, are set to arrive Soon™. Until then, the information available can be found on the official site and you can watch a trailer for the Faerie's Funland board game below.
Our Thoughts
We've got to admit, the transformation of the characters into big-headed chibis in the above trailer was a little bit jarring. That said, the Faerie's Funland map could either be interesting or utterly ignored by players. Hopefully, we'll get more substantial information about this update soon.
Source: press release
Articles Related to Revelation Online
Revelation Online Open Beta Launch Kicks Off
Wings and Mounts Displayed in Revelation Online Travel Trailer
Revelation Online Cash Shop Promotion Offered during CBT3
Related:
MMORPG
,
News
,
Revelation Online
,
Update