A sneak peek at upcoming Riders of Icarus October content is bringing some Legendary Dungeons, a new Raid and the expected Halloween-related content that is washing over the MMO universe this time of year.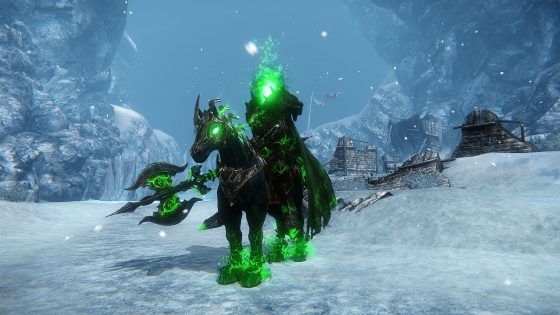 The Halloween fun includes a Giant Pumpkin Hunt event, a roaming headless horseman that spawns in dungeons and a Pumpkin Candy Chase in the game's open areas. Taking part in the events will net an assortment of rewards, including the Horseman's own mount.
Later in the month, Riders will be able to take on Legendary versions of the Lavalight Cave, Carleon Manor and Ruins of Matren dungeons. These three encounters are described as being "for only the most experienced Riders" and provide high tier rewards.
Lastly, a new raid dungeon will be offered in the form of the Gustling Isle. This new area houses the Titan Tranua, a weapon created by the God of Ruin to take on the Goddess Ellora. The Gustling Isle is also described as content for veteran Riders.
No dates for the releases were given beyond "the next few weeks", but the information currently available can be read here.
Our Thoughts
The month of October is halfway through, but it looks like it will be a busy one for Riders of Icarus players. We're looking forward to seeing the new high-level content, but first we have to get our hands on some candy! And that horse mount.
Your Thoughts
What part of the October content are you most looking forward to? Are you ready to take on the new end game challenges? Give us your thoughts below.
Source: official site
Articles Related to Riders of Icarus
Riders of Icarus Cash Shop Items Sellable at the Auction House
Riders of Icarus Rift of the Damned Update Detailed
Riders of Icarus Bot Problem Addressed in Producer's Letter
Related:
Content
,
News
,
Riders of Icarus
,
Update