It'd be easy to say "a storm is coming", but it'd also be expected and kind of cheesy. So instead we'll just say that the RIFT Celestial Storm update is on the way, bringing four new Primalist Souls and a new level 70 zone to explore.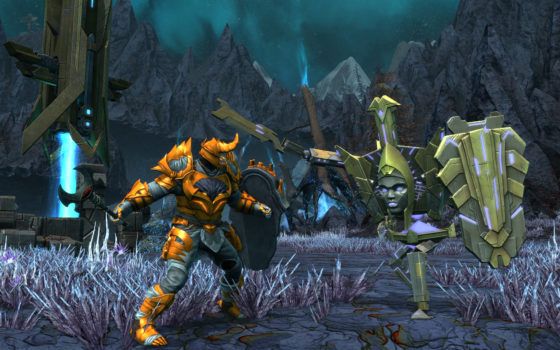 Celestial Storm will introduce the Vostigar Peaks region, a level 70 outdoor zone with new quests, new Raid Rifts, more challenging raid content, and opportunities for players to offer their strength to some of Telara's most legendary heroes.
The new update will also offer up four Souls for the Primalist calling: the AoE-healing Farseer, the single-target DPS Primal Lord, the stealthy burst-damaging Predator, and the support-minded Mystic.
The Celestial Storm rumbles forth on Wednesday, July 19th as a free update to the Prophecy of Ahnket expansion, which is also free to play. Specific details of what's to come are to be announced in the coming weeks, but for now, you can check out an overview on the official site.
Our Thoughts
Getting a free expansion is pretty good. Getting a free update to that same expansion is even better. It sounds like the greater bulk of this update is going to be focused on large-scale group actions, which are some of the best gameplay experiences in both RIFT and MMORPGs in general, so we're most certainly eager to see this update land!
Source: press release
Articles Related to RIFT
RIFT 4.0 Gets a New Name and is Offered for Free
New Raid and Eternal Items Arrive in RIFT: Forged in Flame
F2P Kingdom: The RIFT Free-to-Play Experience
Related:
MMORPG
,
News
,
Patch
,
Rift