The vehicles in Rocket League are pretty cool, granted, but they sure as heck ain't no Batmobile and, frankly, the fact this rocket-powered car isn't in a league of rocket-powered cars is surprising. Psyonix will soon correct this egregious oversight with the Rocket League DC Super Heroes DLC.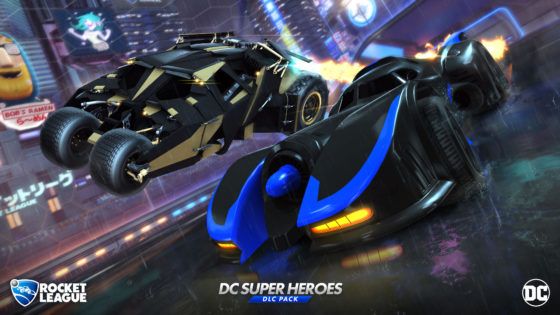 Due to arrive on March 5th, the new DLC will let players either dress up their existing cars with decals and wheels themed after DC superheroes like Wonder Woman, Superman and Green Lantern, or straight-up drive two new Premium Battle Cars in the form of the Tumbler from The Dark Knight Rises or the Batmobile from the '89 Batman film. Players can also show off their favorite DC characters with a variety of banners.
All of the items in the DLC – including the two Premium cars and 20+ customization items – will arrive to all Rocket League platforms on Monday, March 5th and will set you back $3.99. You can check out all of the shiny goodies in the DLC on this web page and check out the in-game Batmobiles in the trailer below.
Our Thoughts
Seriously, though, who wouldn't want to drive on the Rocket League pitch in the freakin' Batmobile? Granted, the other items and decals look great too, but none of them are Batmobiles. Pity the Batmobile from the 90's animated series wasn't included, though.
Source: press release
Articles Related to Rocket League
Rocket League Plans 2018 Cross-Platform Party Release
Rocket League Reveals Switch-Exclusive Battle Cars
Rocket League Reveals The Fate of the Furious DLC
Related:
DLC
,
eSports
,
Multiplayer
,
News
,
Rocket League