The entire point of Rocket League's gameplay is competition, but up until recently that competition has been a simple one-and-done affair, which might be leaving some players of the car-driven soccer title wanting more, especially if they're fans of the RLCS. Enter the Rocket League Tournaments update.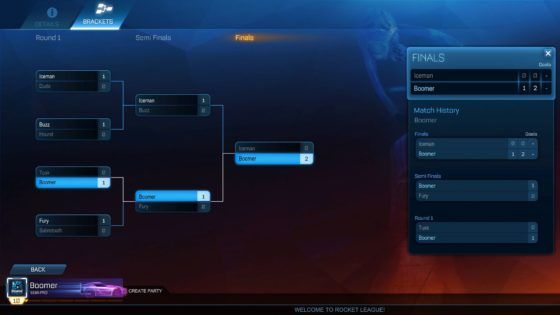 As the update's name suggest, Tournaments will let players piece together their own bracketed, team-based tournaments. These tourneys can either be private or public and will include all the game modes you'd want including Soccar, Snow Day, Hoops, Rumble or Dropshot. Tournaments can also have Mutators that change variables like arena gravity and ball size.
In addition to custom-built tourneys, the update also introduces features like connection quality indicators to signal issues like packet loss or latency issues, a chat ban system that holds hands with the game's existing language ban and reporting systems, visual and performance upgrades for the Nintendo Switch version, and a new Battle Car among others.
The Tournaments update is available now for the game on all platforms that have cars playing soccer. Full information can be found on the update's landing page.
Our Thoughts
Honestly, with as many esports events as Rocket League has, it's kind of remarkable that this sort of update didn't arrive sooner. That said, better late than never, certainly. We hope that players have a great time in their own custom-built mini-tournaments!
Source: press release
Articles Related to Rocket League
Rocket League Gets Heroic with DC Super Heroes DLC
Rocket League Plans 2018 Cross-Platform Party Release
Rocket League Game Page
Related:
Multiplayer
,
News
,
Rocket League
,
Update