With the impending arrival of Rocket League to the Nintendo Switch, the devs at Psyonix have taken it upon themselves to celebrate the Nintendo legacy in their own unique way: with Nintendo Battle Cars!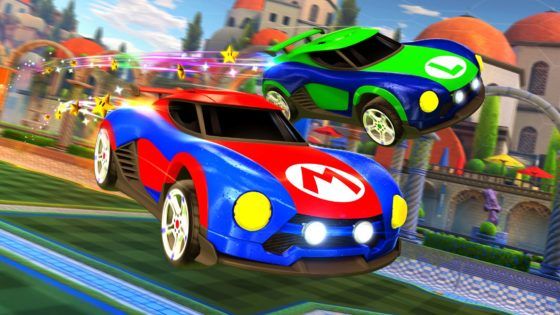 There are two unique cars that will arrive to the Nintendo Switch version of the game; one themed after Mario and Luigi and a third fashioned after Samus Aran's gunship.
The Mario and Luigi cars are the same NSR model, but will automatically change to either the Mario or Luigi livery depending on which team a player falls. The Samus Gunship will also change color based on team location, with colors that will represent the different forms of Samus' Varia Suit. Both cars will also unique Rocket Boosts, with the Mario and Luigi NSRs sporting a "Super Star" and the Gunship coming equipped with the "Wave Beam" Boost.
The new cars will be unique to the Nintendo Switch edition of Rocket League, which is due to release during the Holiday season of this year. You can check out a new trailer showcasing these Battle Cars below.
Our Thoughts
The Samus Gunship car is so cool! Yeah, the Mario and Luigi cars look good too but THAT SAMUS CAR! In all honesty, we hope that these cars don't stay Switch-specific for too long because we're pretty sure there are fans of Mario, Luigi, and Samus that play Rocket League on other platforms.
Source: press release
Articles Related to Rocket League
E3 2017: Rocket League Arriving to Nintendo Switch
Rocket League Esports Tournament to be Broadcast on NBC
Rocket League Unveils an Anniversary Update
Related:
Console
,
News
,
Nintendo Switch
,
Rocket League