On the one hand, the new Diablo 3 rumor could most certainly be considered a grand leap in logic. On the other hand, there's some reasonable conclusions that could be drawn here. So let's take a moment and consider the idea of Diablo 3 on the Nintendo Switch, assuming that's what this new tease is indeed suggesting.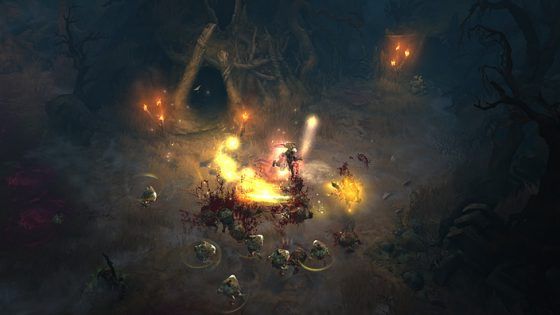 The rumor stems from a short looping video that Blizzard Entertainment posted to its Twitter, which showed an extremely elaborate Diablo nightlight being switched on and off and simply the words "Sweet dreams."
Of course, the use of a switch to light up the nightlight is what has drawn most people's attention, particularly since no such item is currently listed on the Blizzard Gear store and a tease for a nightlight's release would be pretty weird, frankly.
That said, Blizzard hasn't exactly been rushing to the Nintendo console either; rumors of Hearthstone coming to the console were flatly denied by game designer Dean Ayala, while Overwatch producer Jeff Kaplan has expressed some doubts about his team's ability to handle content releases for another console port and the Switch's ability to handle Overwatch at minimum spec.
In the meantime, Diablo 3's 13th season is well underway, though there are some reports of a mini-patch breaking the game on PC and lowered player confidence of substantial new content in 2018.
UPDATE – 3/2 10:13am EST: Turns out, according to a statement posted by Polygon, the rumors are perhaps not quite what they seem. "We can assure you we're not that clever. [It was] meant to be a fun community engagement piece. We have nothing to announce," reads the statement.
Still, the piece also does mention the possibility that "nothing to announce" could be marketing speak for "we haven't gotten promotional materials set up yet." Also, it's still super weird that they'd post a video of them playing with a nightlight.
Our Thoughts
Diablo 3 doesn't exactly strike as a platform that would have issues running Diablo 3 and its JoyCon controller setup makes it immediately ready for some couch co-op demon smashing. If you ask us, Diablo 3 and Nintendo Switch are a perfect pairing, but it's up to Blizzard to make the call.
Source: Twitter
Articles Related to Diablo 3
Diablo 3 Rise of the Necromancer Review
Diablo 3 Game Page
Games Like Diablo 3
Related:
ARPG
,
Diablo 3
,
MMOARPG
,
News
,
Nintendo Switch
,
Rumor