Uh-oh, Blizzard accidentally leaked the possible release date for the upcoming World of Warcraft expansion; Legion. It was only a day before BlizzCon kicked off, so it might have just been a programming mistake, but the date was spotted online in an image hosted on the Battle.net website which reads "Expected game release on or before September 21st, 2016". The image can be seen below, though it might not be entirely readable as it is rather small.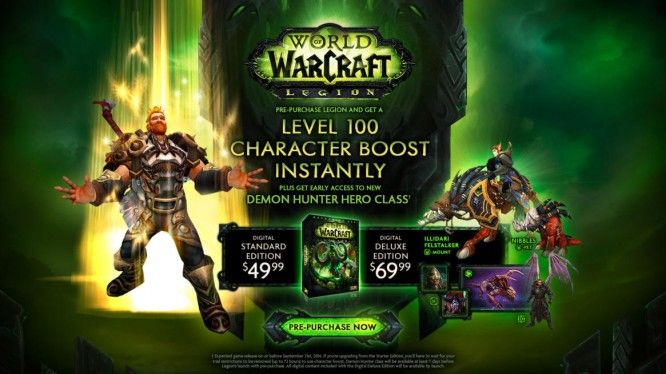 The image also shows some of the pre-purchase bonuses, including a Level 100 character boost and early access to the brand new Demon hunter hero class. The standard edition of the game will be priced at $49.99, whereas the digital deluxe edition has a price tag of $69.99. The digital deluxe edition does, however, include an in-game mount, a pet, and digital content for Diablo 3 and StarCraft 2! So if you play those games as well, you might want to consider buying the deluxe edition over the standard one.
Though it is not entirely certain if this is the actual release date, it gives an indication of when the expansion will be released. It might very well be released earlier, so we're keeping our hopes up!
Our Thoughts
September 21st of 2016 seems like decades from where we are now, but Blizzard might release it sooner if it has been completed early. Until that time comes, we'll just have to wait patiently.
Source: Gamespot
Related:
Blizzard Entertainment
,
Blizzcon
,
Leak
,
Legion
,
MMORPG
,
Release Date
,
World of Warcraft