This year's RuneFest has provided some details of how RuneScape 2017 will look, with a brief of what the team are looking to implement in to the MMO as a result of a player survey.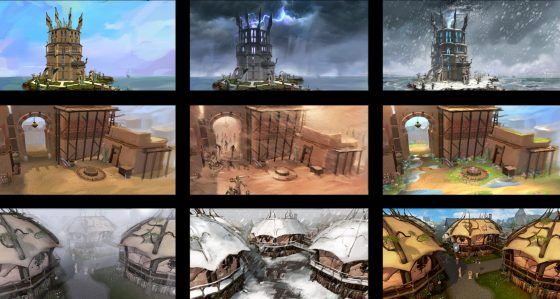 According to a survey of thousands of players, several systems will see rework and new features will be added to RuneScape over the course of its next year. According to the post, the team also have "a few surprises left", but will use the survey information to inform their design decisions moving forward.
A weather system was first teased, which the team want to use as a means to engage quests or reveal hidden places. "How about lightning bolts in the distance, climbing up a lightning rod, unleashing it as a component for new spells or abilities?" reads the post. There is also mention of Elder Gods awakening and the possibilities their return would pose, changes to pets, and reworks of the Bank, Clue Scrolls, Solo Boss fights and mining.
Finally, the team revealed that they will be making expansions for RuneScape, which will release completely free and are stated as being similar in size and scope to an Elf City. The timeline for expansion releases is every three months, with details for each expansion's offerings being purposely limited. "We want to bring surprise and discovery back into RuneScape, like those days when Construction was released with little more than a mention of being able to sit down on seats," reads the post.
The entire digest of what's coming to RuneScape next year can be seen on the official site.
Our Thoughts
RuneScape is getting bigger and better by the sound of things. 2017 could very well be the most exciting time for players of the long-running MMO yet. We hope that the team are able to keep up with the proposed speed of expansion release, and we can't wait to see how these survey answers will be implemented to the title.
Your Thoughts
How do you feel about RuneScape's next year of content? Do you support the idea of expansion-sized updates? Is there something you feel the team is missing? Tell us in the comments!
Source: Official site
Articles Related to RuneScape
RuneScape Idle Adventures Enters Early Access for PC
RuneScape Update Adds New Region, Private Islands
Morvran is the Sixth Legend for Chronicle: RuneScape Legends
Related:
Content
,
News
,
Runescape
,
Update